It's officially back to school season!
While the summertime heat waxes on, retailers of all industries are gearing up for their back to school sales. During the upcoming weeks, parents of school-age children will start hunting for discounts, deals, and special promotions that will give them the biggest back-to-school bang for their buck. And they're not alone. College-age students will soon begin splurging on everything from laptop computers to crates full of ramen noodle soup. 
Back to school sales are an annual tradition not only for students of all ages but also parents, teachers, professors, academic tutors, and the list goes on. In fact, all kinds of businesses can get in on the back-to-school action, not just those that sell obviously school-related products.
Restaurants can use the back to school season to promote cleverly named meal items. Pet supply stores can offer back to school discounts on calming treats to soothe dogs and cats while their young owners are at school. Gyms & fitness centers can offer back-to-school cardio and toning classes to whip students into shape before they return to class. All it takes is a little creativity and just about any business can benefit from revamping their locations with a back-to-school theme.
Heck, even liquor stores can boost sales during back to school season if they market to college seniors who are looking to make a big splash their first night back on campus! Woo-hoo!
No matter what kind of retail business you run, these back to school promotional ideas can help you boost sales.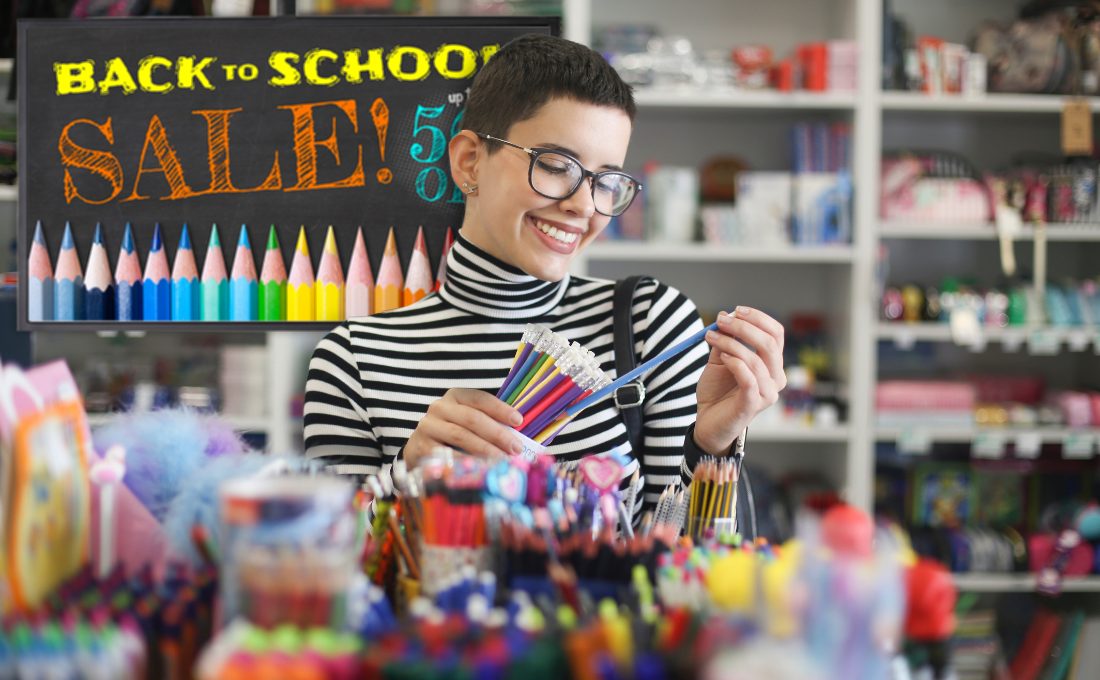 FEATURE IN-DEMAND PRODUCTS & SERVICES
Understanding how the lingering COVID-19 pandemic will impact the current back to school shopping season is the first step you should take prior to strategizing your in-store and online marketing campaigns. Product accessibility and fast in-store shopping trips rate high on the priority list of today's consumers. For this reason, prominently featuring your most in-demand back to school products close to the front of the store and also near the checkout registers is a must.
HIGHLIGHT ELECTRONICS, COMPUTERS, & RELEVANT ACCESSORIES
This autumn, there will be two kinds of students—at-home learners and in-class students. Depending on local school ordinances, some children will attend in-person classes at their schools while others will join Zoom classes from home. If your retail store carries back to school products that will make at-home learning easier, then we recommend you feature those items at the front of your store, and also try these other ideas:
• Feature products that support remote, at-home learning
• Promote mobile hotspot devices & other internet backup solutions
• Highlight gadget durability & provide device sanitation accessories at no costPROMOTE SCHOOL SUPPLIES, CLOTHING & APPAREL, AND FOOTWEAR Personalization matters to students and parents just as much as any consumer. By doing a little research and getting to know your local grade schools, high schools, and higher education institutions, you can show all kinds of "school spirit" at your retail location. Here are additional school-specific ideas:
• Obtain school supply lists from local schools & promote all relevant items
• Use the local high school's colors & mascot to theme a section of your store
• Offer a BOGO promotion for school shoes with athletic sports sneakers
ADD UPLIFT & OTHER UPSELLING TOOLS FOR YOUR POS
FTx Uplift is your cashiers' best friend when it comes to upselling and cross-selling at the Point-of-Sale registers. The software add-on, Uplift, displays pop-up scripts on the employee-facing POS screens. These pop-up scripts automatically trigger when item UPC codes are scanned at the registers. Your cashiers only have to read the scripts, which will help them upsell additional products to consumers during the checkout process.UPLIFT SALES SCRIPTS FOR CASHIERSSince FTx Uplift allows retailers to gamify upsells by creating a fun, friendly competition among employees that rewards the "winners," this POS technology can massively boost sales during back to school season, especially if you incorporate the following ideas:
• Draft & import new Uplift POS pop-up scripts relevant to best-selling back to school items
• Prompt cashiers to promote your loyalty rewards program using Uplift scripts
• Reward cashiers with discounts on regular items for successful upsells they make at the registersIMPULSE-PURCHASE DISPLAYS NEAR YOUR POINT-OF-SALE REGISTERSIt's always a good idea to place low-cost, impulse items near the checkout lines and POS registers, but this sales strategy becomes particularly effective during back to school season. Here are a few specific display ideas that can incentivize last minute purchases:
• Add a "One Stop School Shop" endcap display near the checkout line
• Display a "Countdown to School" calendar & sell matching miniature calendars & organizers
• Include back to college items & accessories of interest along the checkout lines
OFFER DISCOUNTS & DEALS ON PRODUCT BUNDLES
Parents and students who are attempting to tackle a long back to school shopping list often feel overwhelmed. Ideally, they want to buy all of their back to school supplies in one store. However, when all the items on their lists are spread out across a store, these shoppers have trouble finding all the supplies they need, which can lead to frustration. This is where product bundles come in handy. By logically organizing your back to school products in such a way that complementary items are bundled together, you will save shoppers time.USE THEMED DISPLAYS TO PROMOTE BUNDLESPhysically displaying bundled products at the front of your store and at the ends of every aisle will help shoppers collect the items they need for school. Try these specific ideas and don't forget to include relevant add-on items:
• Bundle plain back to school book covers with the art supplies needed to decorate them
• Display your best-selling back to school products in store windows
• Install interactive displays such as a teenager's bedroom desk set with a laptop, smartphone, and furniture—the works!HOST AN IN-STORE BACK TO SCHOOL EVENTDepending on lingering social distancing rules that may or may not still be in effect in your town or city, you could host an in-store or outdoor back to school event to commemorate that a brand-new year is about to unfold for youngsters. Here are some ideas to consider:
• Throw a sidewalk "ice cream social" outside of your store to draw foot traffic
• Rent a "boo-hoo yahoo!" photo booth for parents and children to take photos
• Offer on-the-spot freebies, such as haircuts, manicures, & makeovers in exchange for an honest online customer review—be sure to provide a laptop so customers can post their reviews right after!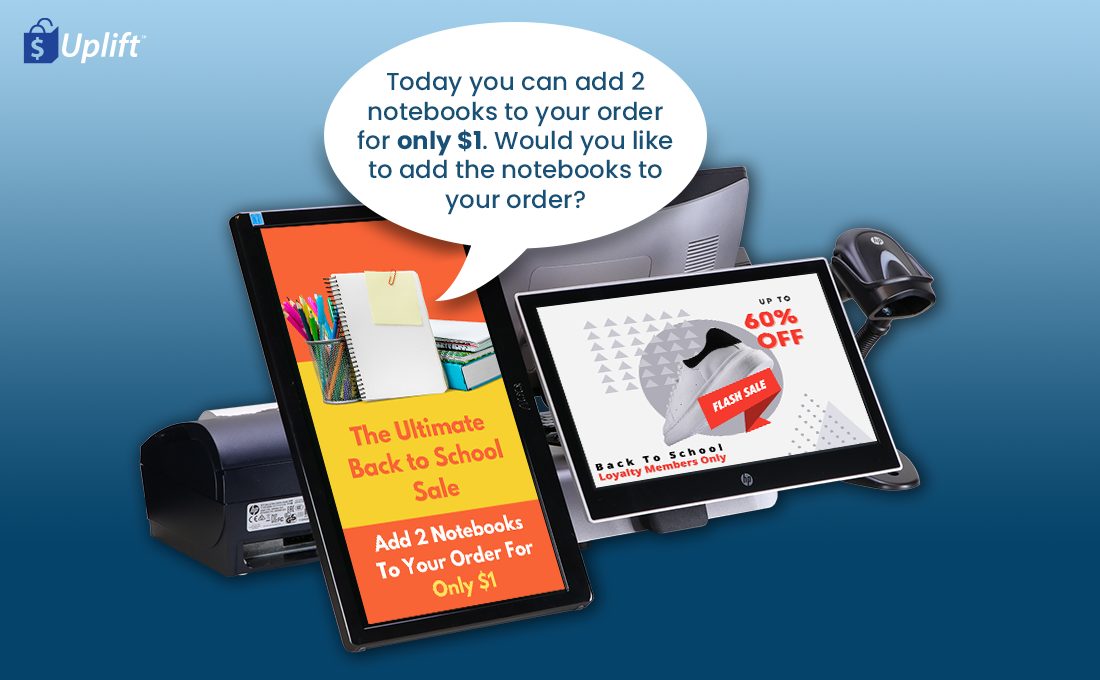 LAUNCH A REWARDS PROGRAM
Customer loyalty rewards programs have been proven to boost sales, foster loyalty, and build brand awareness. There's no reason not to launch a loyalty program at your retail business. In fact, even restaurants, fitness centers, salons, and barbershops benefit from offering their customers the chance to redeem valuable products and services with their earned rewards points. The back to school season is an excellent time of year to enroll new loyalty members into beneficial rewards programs like the one offered by FTx Loyalty.
A LOYALTY REWARDS PROGRAM FOR STUDENTS
Loyalty programs, especially those that come with a mobile app and digital swag shop, can be marketing machines if used correctly. Here are our favorite loyalty program marketing strategies that students of all ages will love:
• Run a back to school promotion where all products purchased in August & September earn triple the rewards points and set the points expiration to October 1st to trigger a big burst in sales
• Provide branded swag merchandise, such as sturdy tote bags for carrying laptops, eco-friendly water bottles, or T-shirts to students who enroll in your loyalty program during the month of August
• Give bonus points to students who successfully refer someone to sign up for your loyalty programA LOYALTY REWARDS PROGRAM FOR TEACHERSWhen it comes to offering rewards points and valuable prizes, don't forget about teachers! More often than not, teachers and professors use their own personal finances to pay for necessary school supplies. Try these rewards incentives to encourage teachers to shop with you instead of your competitors:
• Offer personalized teaching supply bundles to teachers & professors
• Provide triple bonus points opportunities for teachers & professors that spent at least $X throughout August & September
• Create personalized branded swag, such as mugs, tote bags, and cell phone pouches that have the teacher's name as well as your company name & logo; and lower the rewards points needed to redeem these personalized swag items through August & September
TARGET STUDENTS VIA SOCIAL MEDIA
Parents might be the primary "buyers," but it's their kids that lead the way! You can reach your #1 customer—the students themselves—by incorporating social media marketing into your back to school promotional efforts. There are two sides to social media marketing—native posts and paid advertisements. Depending on your budget, you might opt to only post on your social media business accounts. Either way, a little effort will go a long way if you use trending back-to-school hashtags on social media to promote your back to school sales.GENERATE BUZZ ON TIKTOKThe social media platform, TikTok, has roughly 80 million monthly active users in the United States alone, and over 60% of them are between the ages of 16 to 24, with a portion of users ages 12 to 15. This means that in terms of using social media marketing to reach as many students as possible, TikTok is where it's at. Here are a few pointers:
• Use the TikTok "secret sauce" in your posts—feature pets & children no matter what!
• Create & post back to school videos that provide virtual tours of your store and products
• Offer a discount code to TikTok users who post videos of themselves using your products at their schools
• Geo-target a social ad post that features your best-selling back to school products, and use a "Buy Now" call-to-action that redirects viewers to your website
• Invite visitors to enter a back to school sweepstakes drawing where they can win your best back to school item; use an "Enter to Win" call-to-action that prompts contestants to enter their first names and email addresses
• Launch a lead generation ad campaign that geo-targets a 5-mile radius around your store; define the purpose of the ad as a contest; use a lead generation CTA form to collect first names, email addresses, and answers to the contest question you used in the ad; and finally, award the winner with your best-selling back to school products
PRESENT CLEAR BRAND MESSAGES
Conveying your brand and showing consumers what your business is all about—from the products and services you sell to the values you stand for—isn't as straightforward as it sounds. A powerful way to communicate your brand and business message to shoppers is with digital signage. When digital signs are displayed in your store, you can present your back-to-school sale fully branded so that students, parents, and teachers psychologically associate your brand with meeting their back to school needs.
DISPLAY BRANDED MESSAGING ON DIGITAL SIGNS
FTx Digital Signage offers dynamic graphics, rotating digital content, and dayparting options to help you promote your back to school sales in fresh, attention-grabbing, and informative ways that parents, students, and teachers will appreciate. Try these content ideas on your digital signage this back to school season:
• Incorporate your company's mission statement into your in-store digital signage content
• Use digital signs to display "best wishes" quotes to all back to schoolers while featuring your best-selling back to school products
• Display "then and now" photos of your employees, using their old grade school photos, their current photos, and the personalized messages they have for the local students returning to schoolREVAMP THE IN-STORE BACK TO SCHOOL SHOPPING EXPERIENCEIf you own a retail location, as opposed to an eCommerce site, then the in-store shopping experience you provide customers will impact whether or not they remain loyal to your location or shop at your competitor's store. Here are some tricks to help you improve the shopping experience at your retail store:
• Spruce up your in-store layout with the students' "customer journey" in mind
• Decorate your store with seasonal, autumn accents & other back to school accents
• Set up a local book swap display at the front of your store where customers can drop off and / or pick up used books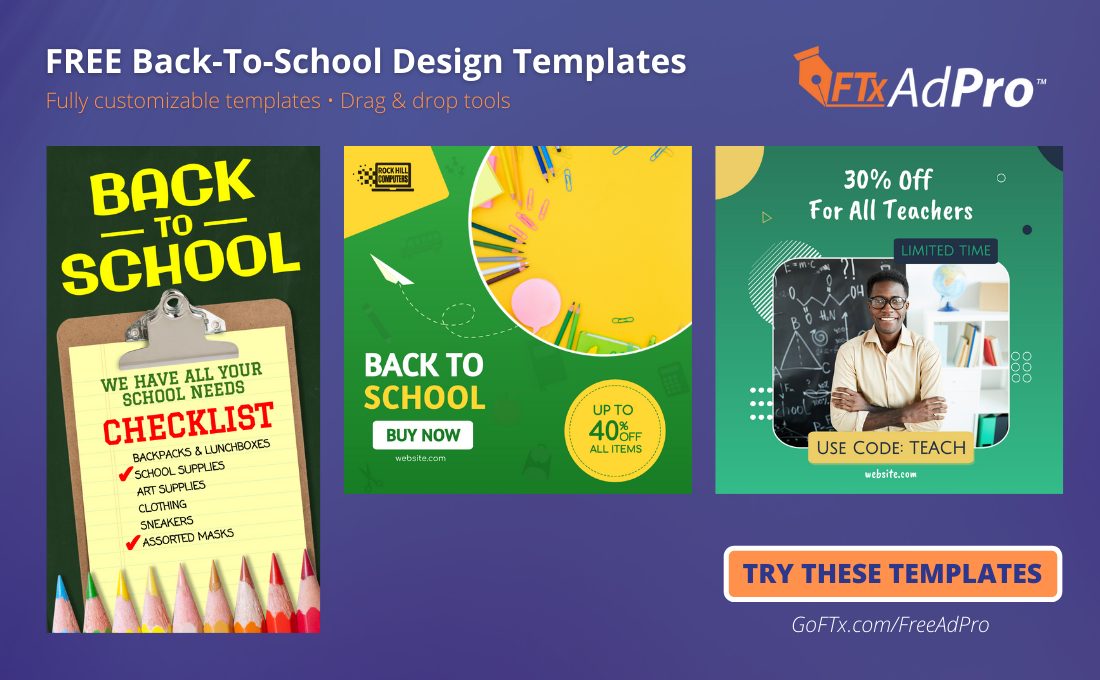 If you want to transform your retail store with back to school designs, then you're going to need digital signage with compelling digital marketing content that engages students, parents, and teachers.
FTx has got you covered on both fronts. Our digital signage solutions come with hardware and software that will have your back to school promotions up and running in no time. Best of all, our software solutions come with the user-friendly graphic design software AdPro at no additional charge.
That's right! AdPro is completely free. You won't be asked to supply payment information. You can sign up today, check out all of our new back-to-school design templates and themes, and start using it right now!
Best of all, if you love using AdPro, there's no reason to stop using it just because the back-to-school season ends! Explore our holiday design templates and transform your retail location as often as you like using holiday-themed digital content for your in-store displays and signage, including digital signage.
There is no downside to signing up forfree FTx AdPro! Take advantage of this cloud-based software today! Want to learn more? Speak with one of our FTx marketing strategists by contacting us here via our website to hear about everything AdPro can do for your unique business!