How much spare time does the average American really have? The answer is, not much. 
For decades, Americans have had less and less time to prepare and cook their meals at home. According to PEW Research, back in 1965 as many as two hours per day used to be spent preparing meals. By 1995, Americans were spending less than 45 minutes per day preparing and cooking their meals, and they were also occasionally eating at restaurants, diners, and fast food establishments. But by 2019, less than 19% of Americans were consistently home cooking all of their daily meals, and the time spent doing so wasn't much.  
If the majority of Americans are not preparing their meals at home, who is feeding them? The answer is, restaurants, coffee shops, diners, fast food businesses, convenience stores, and the list goes on. As people cook for themselves less and less, the restaurant industry grows more and more. In other words, the restaurant industry has been picking up the slack, providing affordable meal options that Americans have come to love. 
But this symbiotic relationship was severely disrupted in March of 2020 when the government began shutting down "high-risk" businesses as a tactic to slow the spread of COVID-19. 
The restaurant industry quickly adapted, however, and many restaurants closed their in-house dining and instead offered curbside pickup or delivery options. This meant that 100% of their orders were taken either over the phone or through their websites. Staying in business was the upside, but what was the downside? 
Human error. 
When payments are processed over the phone, the risk of an employee collecting incorrect payment information increases. Any error has the potential to turn a customer off. And sadly, many restaurants that were not equipped to handle over-the-phone and online ordering did not end up surviving 2020.   
"As of December 1, 2020, more than 110,000 food service retailers were closed for business temporarily or for good," according to the National Restaurant Association's 2021 State of the Restaurant Industry Report. 
Unlike businesses that were completely unequipped to handle online ordering during the pandemic, there was a substantial number of restaurants that did not go under in 2020 thanks to the online ordering systems that were already in place at their businesses. These restaurants typically used third-party platforms to process their online orders, most of which you're probably familiar with—Doordash, Seamless, GrubHub, and UberEats, to name the most popular. 
On the whole, consumers trust third-party platforms. Payment processing is safe and secure for the most part, which consumers expect. Yet, what the average consumer appreciates most about these well-known platforms is the fact that he or she only has to fill out one customer profile form in order to access dozens if not hundreds of restaurants. 
"Restaurants were hit harder than any other industry during the pandemic, and still have the longest climb back to pre-coronavirus employment levels," according to the National Restaurant Association's 2021 State of the Restaurant Industry Report. 
If you've had any doubts about the importance of integrating an online ordering system at your restaurant, coffee shop, or bakery, let us be the first to tell you that the future of the restaurant industry hinges upon online ordering system capabilities. 
There are four critical features to look for when selecting an online ordering system for your business. In this article, we will analyze each feature and highlight the biggest benefits to help you get it right.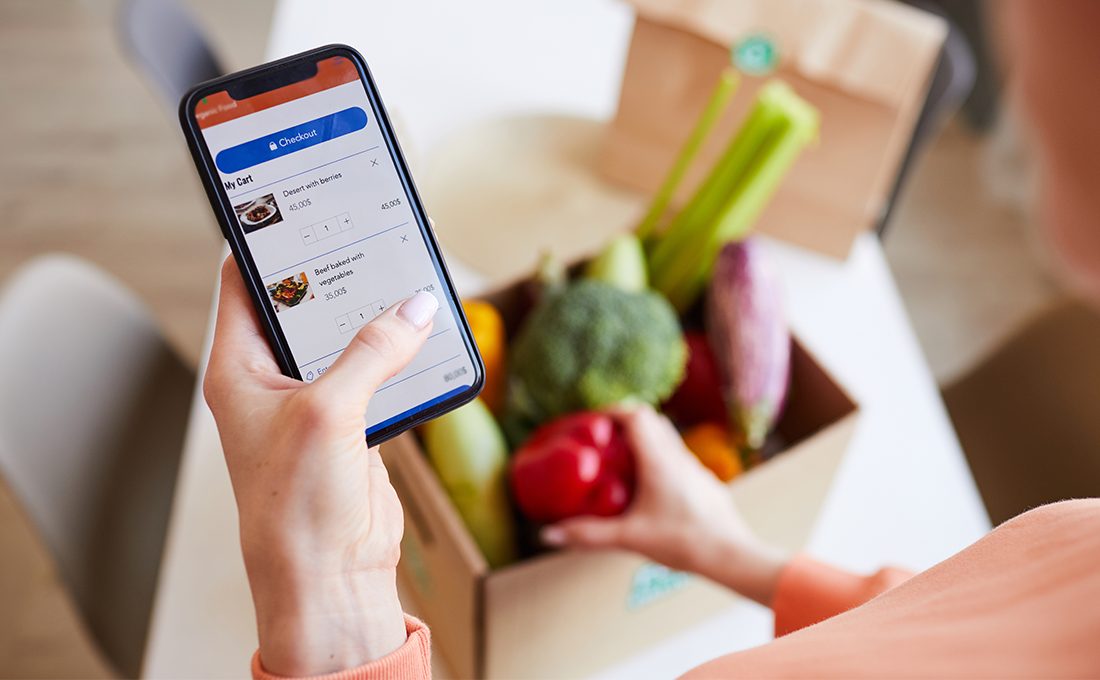 SECURE CUSTOMER PROFILES 
From the consumer's perspective, a "customer profile" is called a customer account. The option to create and save a customer account is an aspect of online shopping that consumers are familiar with. Typically, consumers must fill out a three-part form in order to create a customer account. The first part of the form requires basic information such as the customer's name, phone number, email address, and password, and possibly their age and gender. The second part requires their delivery information, and the third part requires their payment method information. Due to the fact that customers can choose to save their debit and credit card information within their account profiles, the online ordering platform must be safe and secure. 
"Gross losses from credit and debit card fraud transactions are expected to reach $40 billion in 2027, and 38.6% of those cases will occur in the United States," according to the Nilson Report May 2021 Research & Statistics. 
The threat of fraud is a real and present danger, and consumers are aware of this. Unless your online ordering system offers well-known, trusted payment gateways such as Paypal, Venmo, ApplePay, Authorize.net, or 2Checkout, potential customers could hesitate to follow through with the checkout process for fear that their card information could be stolen. Providing customers with a safe, secure, and proven method of storing payment information is the most critical feature your online ordering system must include. 
BENEFITS OF THIS FEATURE 
When businesses provide safe, secure payment gateways, customers automatically feel confident that their information will be protected. They then proceed to create accounts and order from the business. Once a consumer has made a customer account profile with a restaurant, he or she will be more inclined to order again in the future. In other words, customer retention is the greatest benefit of offering secure customer profiles on your online ordering system. You can't afford not to have safe, secure, customer account profile capabilities if you plan to fulfill online orders.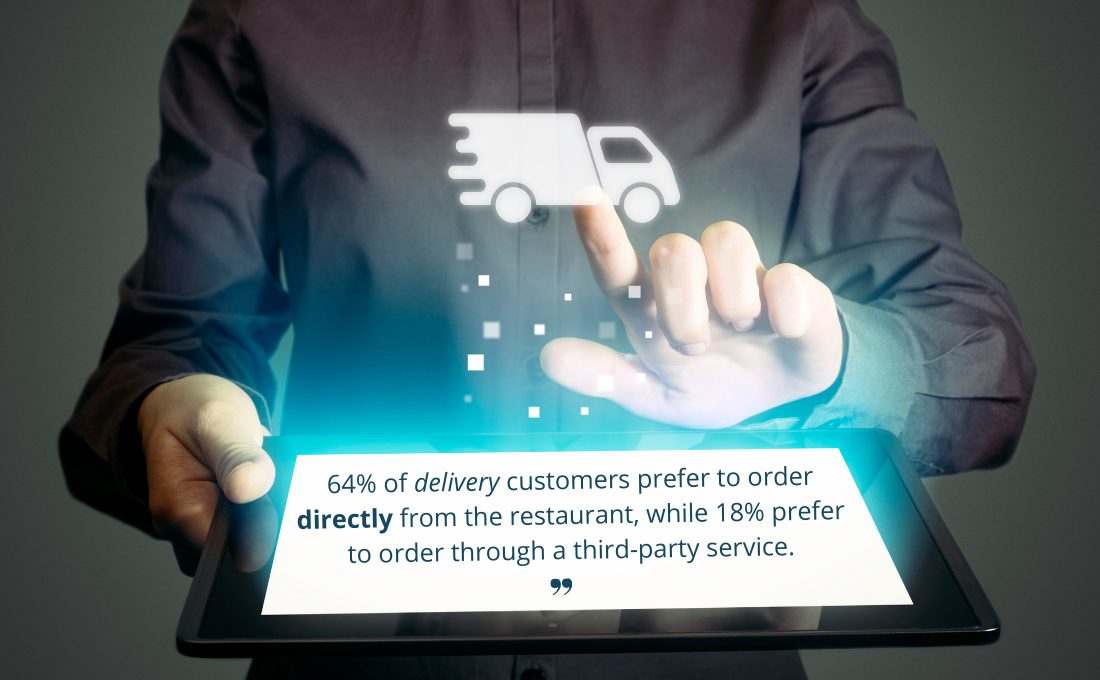 MOBILE-FRIENDLY WEBSITE & MOBILE APP 
Before we can evaluate the benefits of offering customers a mobile-friendly website and a mobile app, we must first differentiate the two. A mobile friendly website is not the same as a mobile app, though both are designed to display on handheld devices such as smartphones and tablets. A mobile website uses the original website's browser-based, coded pages with all of the preexisting links, but adjusts and slightly reorganizes the original design so that it displays clearly on the smaller screens of handheld devices. Increasingly, responsive web design is becoming the new standard for website creation for this very reason, i.e. so that websites display beautifully on handheld devices.  
"64% of delivery customers prefer to order directly from the restaurant, while 18% prefer to order through a third-party service," according to the National Restaurant Association's 2021 State of the Restaurant Industry Report. 
A mobile app, on the other hand, does not duplicate the original browser-based website, but rather it is built separately and made available via download that is installed directly onto mobile and other handheld devices with an internet connection. Creating a mobile-friendly website, building a mobile app, or developing both is all about providing your customers with convenience. Consumers not only prefer to use their smartphones when making on-the-fly online orders, in many instances there are no alternatives. Need to catch an Uber late at night to bring you home? You can't exactly use your desktop computer to schedule it, you aren't home. Want to eat a hot pizza the second you plop down on your living room couch? Use your smartphone to order delivery from the local pizza place while you sit in the back of your Uber ride!  
BENEFITS OF THIS FEATURE 
The instances we just mentioned illustrate how consumers use their smartphones throughout the day and night to get what they want when they want it. By upgrading your entire online ordering system website with a responsive web design, you will ensure that your website is mobile-friendly, and this will boost online orders. Likewise, by offering a downloadable mobile app so that customers can place orders from their smartphones, you will open up another income channel that increases business revenue.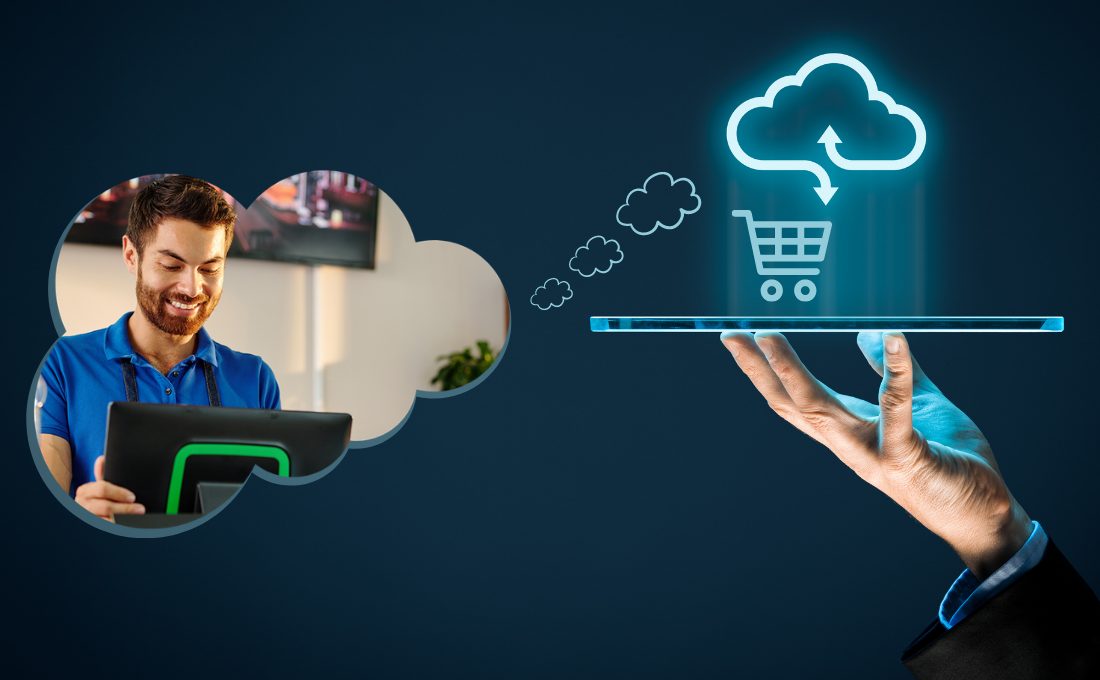 POINT-OF-SALE INTEGRATION 
As a busy restaurant owner, it's imperative that you centralize your sales within one powerful hub. Chances are, you already knew this, and you already have a POS system installed at your location. If and when you offer online ordering options, you should not keep the online channel of your business separate from the in-store activity, because failing to integrate these two streams will end up confusing your inventory counts and causing your accounting to get out of hand. Instead, you're going to need to integrate your online ordering with your pre-standing POS system so that every kind of order is managed in one place. 
"72% of adults say it's important their delivery orders come from a location that they can visit in person, as opposed to a virtual kitchen space," according to the National Restaurant Association's 2021 State of the Restaurant Industry Report. 
For this reason, Point-of-Sale integration is the third most critical feature on our list to look for when selecting an online ordering system. When online ordering processes are integrated with retail and restaurant POS systems, real-time inventory management remains accurate and consistent, and that's not all. Sales data, customer analytics, staff management, and even loyalty rewards points balances will be accurately tracked, giving you a bird's eye view of the most important areas of your business whenever you want to see how you're doing overall. You'll never have to manually enter incoming online orders, transfer inventory, or combine reports from one system to the other when you pick an online ordering system with POS integration capabilities.  
BENEFITS OF THIS FEATURE 
What are the biggest benefits of POS integration? You will be able to accommodate customers who need a great deal of flexibility in order to feel comfortable patronizing your business. As the above quote from the National Restaurant Association states, 72% of consumers like knowing that the restaurant they order from is nearby. This way, even if they place an online order for delivery, they can change their mind and contact the restaurant to switch from delivery to pickup. By offering convenience and flexibility, you'll provide your customers with excellent customer service, which will lead to improved customer retention rates in the long run.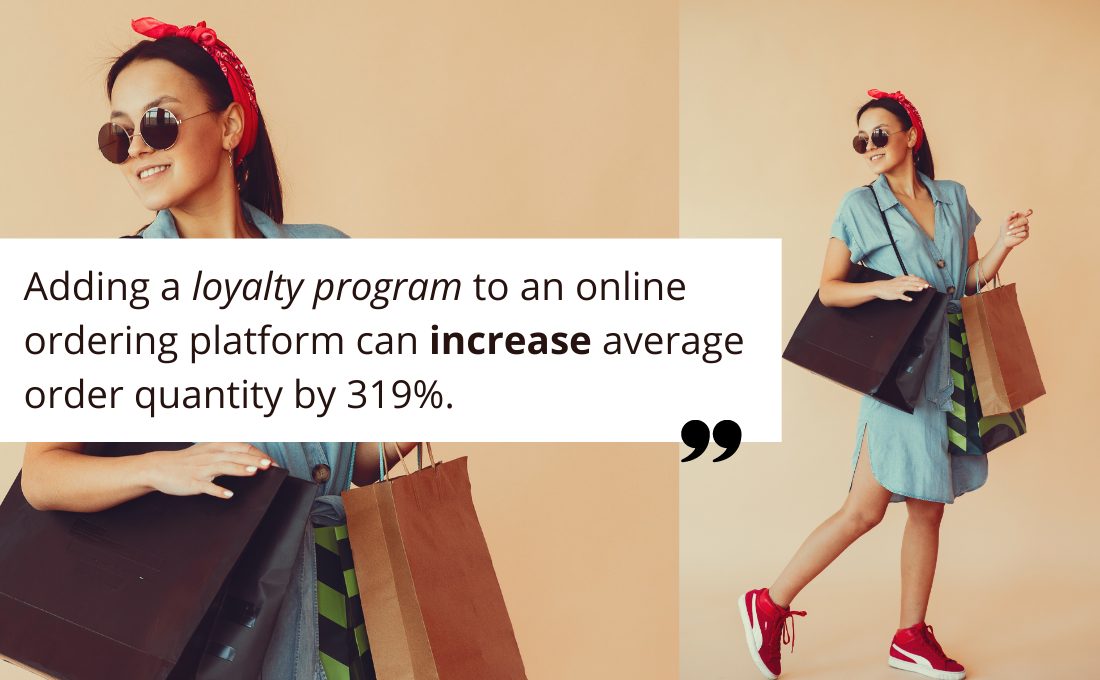 INTEGRATED LOYALTY PROGRAM 
Loyalty program integration is the final key feature to look for when considering which online ordering system to invest in. A customer loyalty rewards program has the power to directly impact the success of your business. As an effective marketing strategy, these rewards programs increase customer retention by rewarding members with "points" every time they make a purchase. Members can then redeem their points for special products, and it never hurts that loyalty programs also reward members with special deals, discounts, and coupons that regular customers don't have access to. For retailers and restaurant owners who already have a custom loyalty program in place, you'll need to offer your members the chance to earn points whenever they order online, which means you'll need the online ordering platform you choose to have loyalty program integration capabilities. 
"35% of off-premises customers—with millennials leading the category at 53%—are more likely to choose a restaurant if it offers a loyalty rewards program that gives them access to ongoing discounts," according to the National Restaurant Association's 2021 State of the Restaurant Industry Report. 
Offering the option of online ordering is a great way for businesses to improve customer retention. But even better is a robust online ordering platform that integrates a customer loyalty rewards program. As we mentioned, loyalty programs are proven marketing strategies that ensure repeat purchases from valuable customers, and when these programs are integrated into an online ordering platform, customer relationship management and direct-to-customer digital marketing campaigns become all the easier. Your customers will appreciate earning loyalty points whenever they place orders online, too, and by automating your loyalty program on your online ordering platform, you can inform members of their points balances and ways to redeem their rewards right then-and-there during the online checkout process, which will promote last minute shopping cart add-ons and boost sales.   
BENEFITS OF THIS FEATURE 
Having an online ordering system that's connected to your customer loyalty rewards program will help drive loyalty program engagement, especially if you set up and automate personalized item suggestions. When your loyalty members peruse your online menu and see personalized items they can add to their order to earn points, they will be all the more inclined to buy more before they complete the payment process. For this reason, we recommend that you make absolutely sure that the online ordering system you're considering will easily integrate with your current customer loyalty rewards program.  

THE TAKEAWAY 
When taking the needs of today's consumers in mind, launching an online ordering system isn't optional. As a restaurant owner, you can grow your business by adding an online ordering system to your customers' shopping options, even in an unstable economy. Just be sure to choose an online ordering system that offers customers the ability to create accounts where their payment information will be safe and secure. Make sure your website is mobile-friendly or launch a mobile app so that your customers can place orders from their smartphones and tablets. And be certain that the online ordering system will integrate easily with both your POS and current customer loyalty rewards program.  
Additional features to look for when selecting an online ordering system include: 
• All Payment Options Including Mobile Wallets, Gift Cards, and Cryptocurrencies
• Order & Delivery Tracking
• Detailed Menus
• Item Management
• Comprehensive Reporting Capabilities
• Marketing & Promotional Campaigns
• Social Media Integration
Multilingual Web & Mobile App Options FTx provides retailers and restaurant owners with the business solutions they need. Our full suite of business solutions includes FTx POS, a user-friendly, customizable Point-of-Sale system with cloud-based functionality and mobile app integration; and FTx Loyalty, a gamified customer loyalty rewards program with proven points structures that boost customer retention. Best of all, FTx now offers website and eCommerce site design and development services as part of our brand-new digital marketing agency, FTx 360. And that's not all… We also have a new solution coming soon—FTx Commerce. Once fully formed, FTx Commerce will serve as an online ordering platform that provides retailers and restaurants safe, secure, and efficient online ordering solutions with curbside pickup and delivery service options. As of today, however, this proprietary, cloud-based SaaS solution is still in its infancy being developed. But that doesn't mean you shouldn't get excited. We plan to orchestrate a staggered rollout of specific FTx Commerce services that you can attain as soon as they hit the market. Most notably, FTx Commerce will provide delivery services in the not-too-distant future, but if you're eager to try out this service now, all you need is our Cloud POS. For those of you who are patient, keep your sights set on the horizon for when this software solution is fully formed and fully functional. At that point in time, the complete FTx Commerce software package will easily integrate with any POS system, offering retailers and restaurants an online ordering platform they can trust that ensures their inventory is always accurate and updated in real time. Be sure to sign up for our newsletter to be the first to know about FTx Commerce developments as they happen. Or, if the suspense is killing you already, contact us today to find out more about FTx Commerce and what this SaaS solution can do for your business!