As the focal point of any business that sells merchandise, inventory is the most critical element of the supply chain. Without inventory sales, retail and wholesale companies will go under.
Ironically, when companies with extremely strong sales teams manage to secure an abundance of orders without confirming that their warehouses actually have enough inventory stock on-hand to fulfill those orders, problems will arise that could affect the longevity and health of those companies. In other words, if a company is unable to deliver, they run a very high risk of losing customers, and because of it, they probably won't be able to stay in business.
Maintaining proper internal company communication, notifying customers of order fulfillment progress, managing reorder points, respecting realistic timelines and workflows, and shipping goods on time so that customers receive their orders on the promised delivery dates are all absolutely vital to retailers, wholesalers, and distribution centers regardless of the particular products sold. Even eCommerce start-up companies that ship goods directly to their customers must master these vital operational aspects. And if a seller is working with an intermediary platform such as Amazon or Etsy, then the performance bar is set even higher.
Keeping a highly watchful eye on your inventory so that you satisfy every customer order while never overstocking your retail or warehouse shelves–or worse, running out of product–might sound like a herculean feat. It doesn't have to be.
When you have the right inventory management tools in place at your company, every operational procedure and customer satisfaction goal becomes not only possible, but fast and easy.
So, what are the right inventory management tools to use, and which inventory management software will be the best for your company? Those are the million-dollar questions. Luckily, you don't have to be a millionaire to get answers. In this article, we'll go over the inventory management protocols you must implement at your business, the best tools to manage those, and important features to look out for when deciding which inventory management software solution to invest in.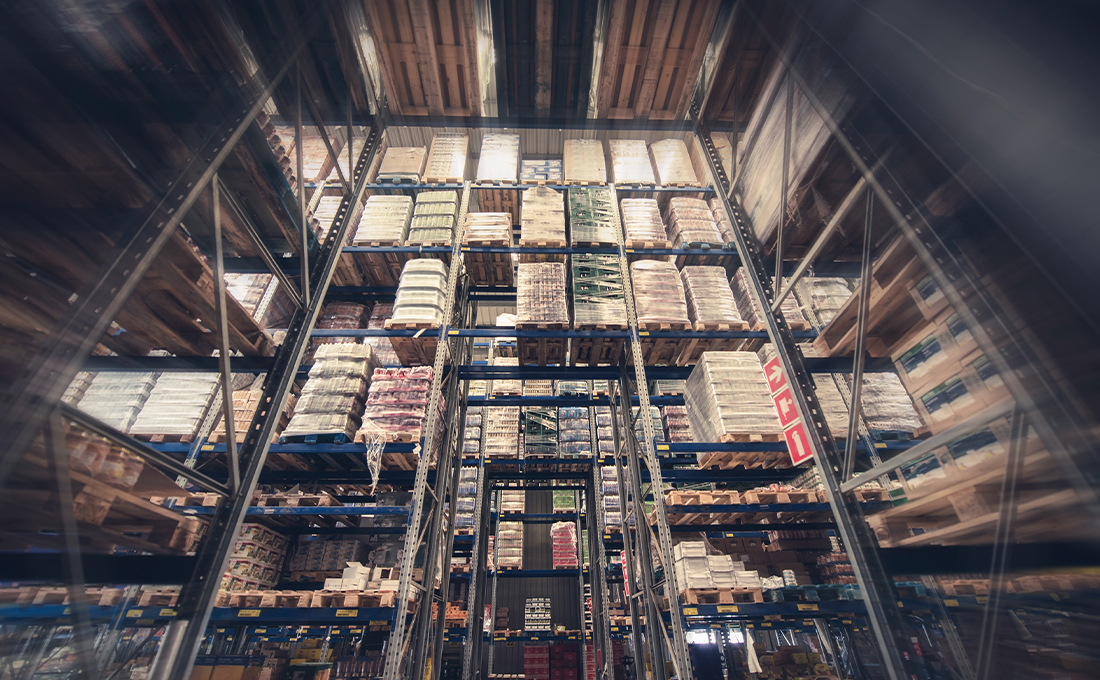 THE SYSTEM IS THE STRATEGY
Whether you're a retailer, wholesaler, or an entrepreneur who has been fulfilling customer orders from the living room table amidst your extremely supportive family, the fact of the matter is that your business is unique. No other company is exactly like yours. The products you sell, their prices, and how you sell them are unlike your competitors. Your inventory management system has the potential to become an effective strategy for business growth, if implemented and utilized with proper respect to your specific operational needs.
This means that as you compare and consider which inventory management solution to invest in, you'll also want to evaluate how each software candidate will provide strategic support to expand your customer base and handle overall growth as your business scales up. Remember: the system you go with is also the growth strategy you'll have to live with, so it needs to be a good one. And it must include the following primary tools:
• Point-of-Sale, or POS–for your sales staff and any members of your team that interface with customers
• Warehouse Inventory Management–for your warehouse and distribution center employees who are responsible for fulfilling customer orders on time
• Handheld Inventory Management–for your sales clerks and warehouse workers who need to be able to view in-stock inventory quantities and quickly locate items
• A Centralized Dashboard Control Center–for your upper-management staff, as well as yourself, to manage, oversee, adjust, and fulfill every aspect of your customer orders, including but not limited to collecting and tracking vendor relations data, customer relations data, sales data, and employee data

POINT-OF-SALE SYSTEM
If you own a retail business, you are no stranger to POS systems. You have a POS system in place at your retail location and you know that a POS can provide far more uses at your store than merely collecting payments during the checkout process. These days, digital POS systems collect customer data, execute promotional offers, run customer loyalty rewards programs, track inventory, manage employee schedules and timecards, and that's just the beginning.Depending on the scale of your business, your POS could be highly complex. But even if your company is still in the early stages of opening, your POS should come equipped to handle future growth and size. The most important capability that your POS must include is automation. When your POS offers automation for sales reports, outstanding purchase orders reports, and inventory reports, you will be able to see accurate on-hand versus on-order versus in-transit inventory quantities, which is why a fully-functioning, customizable Point-of-Sale system is the first inventory management tool you will need in your company toolbox.
WAREHOUSE INVENTORY MANAGEMENT
The second inventory management tool you'll need is warehouse inventory management software. While your POS might be able to satisfy your inventory tracking needs if you're a small-scale retailer, a POS system alone won't be able to handle the operational and inventory needs of a larger-scale retailer with significant backroom stock. Nor will POS be appropriate for actual wholesalers that manage their own warehouses and distribution centers.Warehouse technologies have been rapidly evolving in recent years, which is great news for businesses with complex, dynamic inventory needs. And if your facility also has a factory on-site where a portion of your wholesale products are manufactured, then your business is probably as complicated as they come. Luckily, there are warehouse software solutions on the market today that can speed up efficiencies, diversify operations, and offer faster fulfillment times. We'll delve into the meat-and-potatoes of this specific inventory management tool a little further in this article when we go over the "control center" tool.
HANDHELD INVENTORY MANAGEMENT
Your company may be ready for a solution that combines your business's larger POS system with your warehouse inventory tracking software in order to assist the speed and accuracy of your employees' work as they fulfill customer orders. When workers are collecting products from different areas of a warehouse in order to put a customer's order together, they can't afford to waste time returning to stationary computers just to update order status' or learn the specific location of an item within the warehouse. Streamline your order fulfillment operations by supplying your workers with the third recommended inventory management tool–handheld devices to assist them.When you supply your warehouse employees with powerful and complete inventory information contained within portable, handheld devices, you'll equip them with the best inventory management tool available. Reduce inventory shrinkage and discrepancies, eliminate manual inventory count days that disrupt operations, scan UPC barcodes without errors or glitches, and automate notifications to customers every time the status of their order has been updated. With handheld inventory management, your employees can easily improve their work performances and efficiencies, and you will be able to monitor, manage, oversee, and override everything your workers do.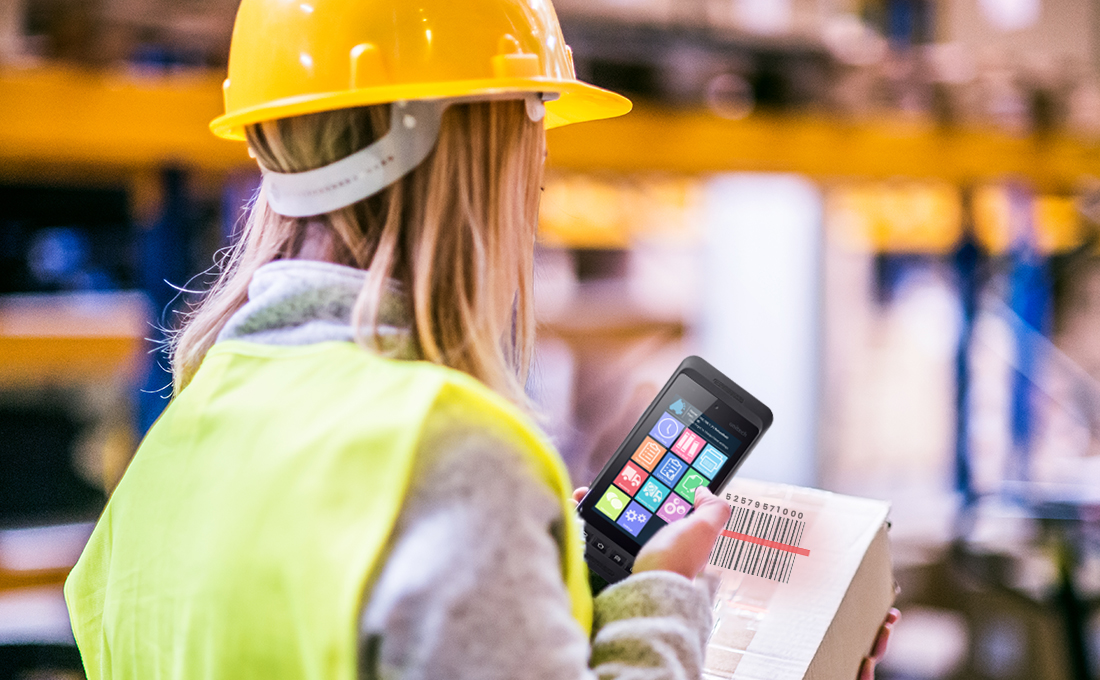 THE CONTROL CENTER
For the three tools mentioned so far to truly empower your business, they must be integrated in such a way that you, the company owner, can access them from a centralized computer software dashboard. If your POS, warehouse inventory software, and handheld devices are disjointed, incompatible, or communicate poorly with one another, you are going to have major problems. The last, and perhaps most important, inventory management tool you will need is a digital control center that ties everything together.
The control center serves as your back office interface where you can input, modify, and even archive your price books; manage and monitor every aspect of your inventory; and also schedule, manage, and review all aspects of your employees' timecards and work performances. When you can categorize items, update large data groups, schedule auto reorder points, and generate rich reporting for the purposes of reviewing detailed sales and inventory data, you will be able to make better business decisions. 
The specific inventory control features that will best serve your company are:
• Security & Protection
• Create Transfers
• Order Suggestions
• Automatic Purchase OrdersEmployee management features that should be included in the control center include:
• Multiple Location Management
• Manage Employee Logins
• Track Spiffs & CommissionsSpecific price book features the control center solution should contain:
• Manage Price Books
• Set Rules & Exceptions
• Assign Discounts
• Utilize Versatility Options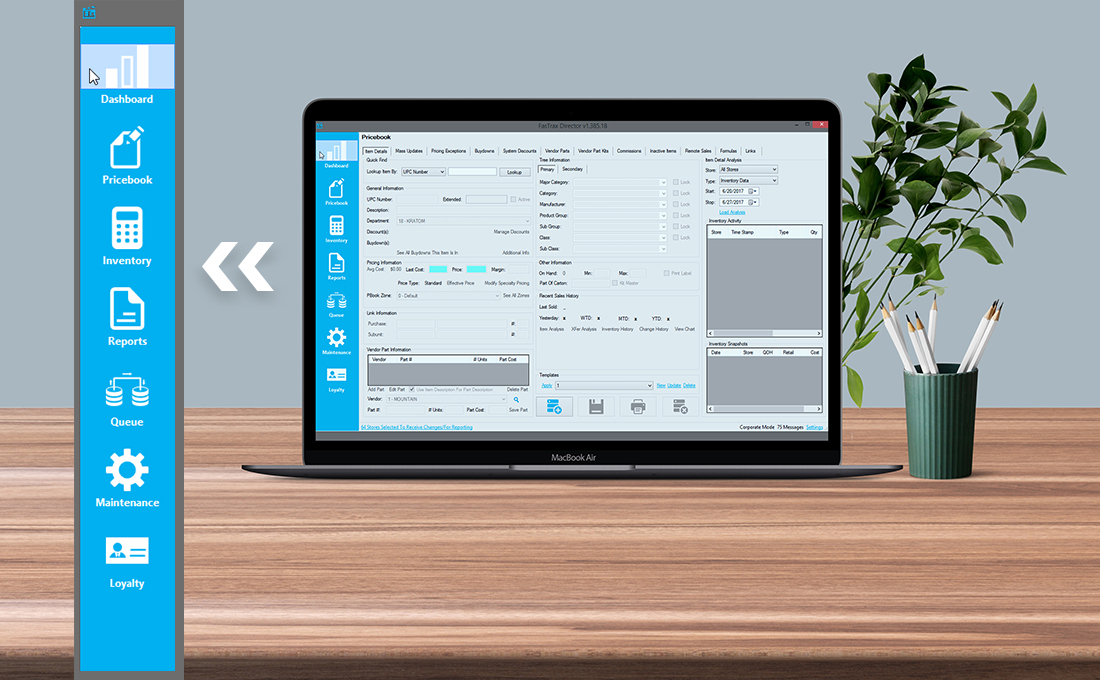 TOP 5 CONTROL CENTER FEATURES
In order to ensure that the inventory management software you invest in will be able to support your business as it grows, be sure that the software solution includes a digital control center with the following five modules.
PRICE BOOK MODULE
The best price book module will enable you to easily create and manage your price book items individually with pertinent information including the item's description, cost, price, department assignment, purchase and sub unit breakdown relationship, vendor part, and tree information for quick mass updates and report filtering. This module should allow you to create UPC aliases so that when manufacturers change the UPCs of items, you will be able to reflect the change and turn the prior UPC into an alias so no data is lost. Creating pricing zones and pricing exceptions is also a must, as well as being able to input promotions, buy downs, system discounts, vendor parts and kits, and even record commissions as inventory is sold.
INVENTORY MODULE
The inventory module should enable you to create transfers for stores from either the corporate or store level as you move inventory, and it should also have suggested transfers features that help you evaluate transfer amounts for store-to-store inventory movement, analyze inventory within dynamic date ranges, and convert suggested transfer quantities for store evaluations. Make inventory adjustments when inventory levels for items should be updated outside of the normal inventory counts and invoicing methods. Record incoming items manually or electronically as you receive vendor orders, and convert your previously created purchase orders to invoices for customers. The inventory module should offer automatic reordering with EDI capabilities to send orders electronically to your vendors.
REPORTS MODULE
Comprehensive reporting features are a must. The broad based reporting capabilities should include sales reports such as buydown sales, campaign sales, commission sales, crosstab sales, customer activity, department sales, and manufacturer sales details to name a few; inventory reports such as cycle count coverage, inventory adjustments, inventory evaluation, inventory movement, inventory projection, invoice cost changes, invoice details, out of stock items, purchase analysis,  and store price changes, among others; and schedule reports with accounting exports for easy quarterly and year-end filing.
DASHBOARD MODULE
Being able to see how your business has been performing by viewing a snapshot of your financials can greatly help you make critical business decisions with confidence. Get an overview of your company's performance through the dashboard module of your inventory management software's control center. View current and past sales numbers, cancels, voids, and customer counts for each retail or warehouse location at a glance. Review worksheets to have greater control of your inventories, and eliminate over and under ordering in the day-to-day. The dashboard module can even help you stay on top of your To Do list.
MAINTENANCE MODULE
Finally, the maintenance module is where you can view and manage employee time clocks, set-up new stores, create departments for item assignments, assign POS flags for tax groups and age verifications, create and organize department groups, set up and define the parameters for accepted tenders, input and control vendor information with EDI parameters, and form house accounts with capabilities for multiple users. From here, you can create user logins, create permission controls, set authorized-only functions, adjust POS settings, and specific sales restrictions.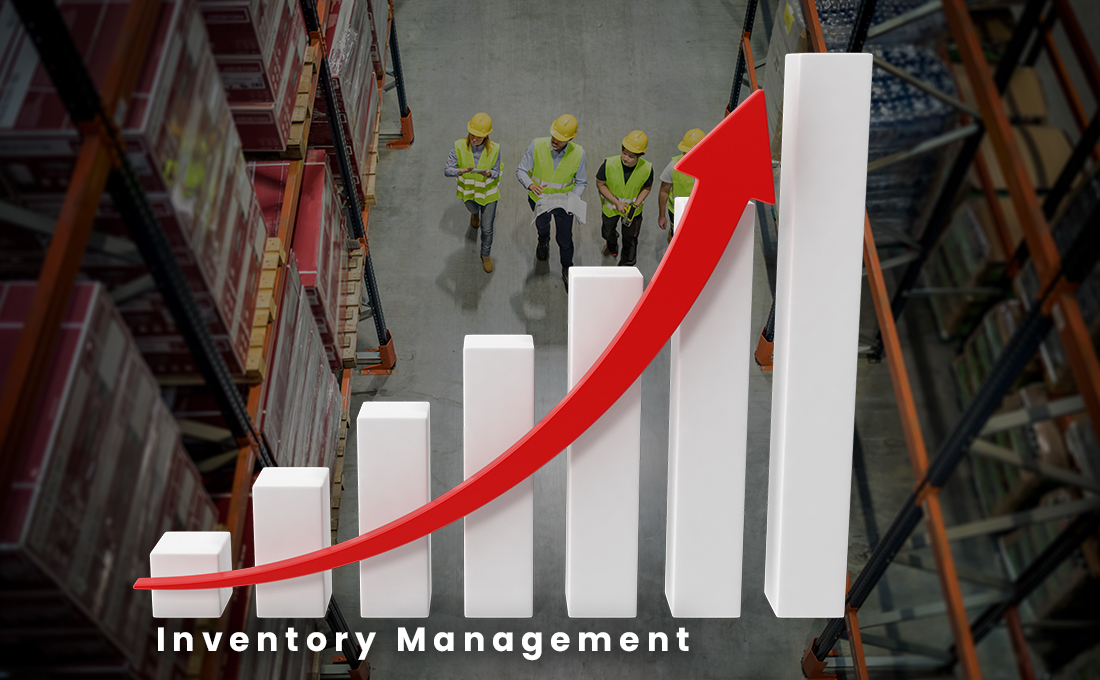 ESSENTIAL SUPPLY CHAIN TOOLS
For your convenience, reference this consolidated list to confirm that the inventory management solution you're about to purchase includes these essential supply chain tools:
• Shipping Status Tools
• Order Processing Tools
• Lean Inventory Tools
• Compliance Tools
• Demand Forecasting
• Analytics & Reports
• Warehouse Management
• Collaboration Portals
• Special Freight Handling
• Bid & Spend Tools
• Security Features
• Supplier Management
• Transport Logistics
Even if your business is currently in its infancy, you'll want to lay down a solid, scalable foundation today that will best support the long term growth to come. If you're feeling overwhelmed just thinking about the research it will take to compare inventory management solutions in order to confidently select the best provider for your business, we can save you time, effort, and a significant amount of money. FTx Business Solutions offers software and hardware systems, including a full suite of inventory management tools, that can handle every aspect of your business from your Warehouse Inventory Management to your POS. FTx even offers a centralized dashboard control center called Director that can serve as the organizational hub of your company. Interested in discovering what FTx can do for you? Contact us now to learn more!