2019 Orange County Partnership Investor Breakfast
October 3, 2019
The West Hills Country Club in Middletown, NY hosted Orange County Partnership's annual investor breakfast on Thursday October 3rd. In attendance were some of Orange County's top leading business men and women, representatives from local businesses, New York State supervisors and mayors, members of the Partnership board, as well as business representatives of upcoming development projects.
FasTrax Solutions and CM Management has been an investor in the Partnership since April of 2019. As a company we believe in what the Partnership stands for. FasTrax and CM Management supports economic development in this area and is proud to be a part of a no-cost resource for companies looking to locate in Orange County.
ANNOUNCEMENTS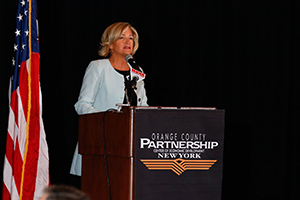 Maureen Halahan, President & CEO of Orange County Partnership since 2002, lead the presentation Thursdaymorning. Ms. Halahan announced the forward movement in project 17 Forward 86, which aims to cut back on traffic on Route 17 by adding a third lane from Rock Hill to Monroe. She stated that so far there are no oppositions to this project. She urges people to sign up to support on their website 17forward86.org. FasTrax Solutions and CM Management are proud supporters of this project. We believe that this project will help the overall economic development of this area. Most of our employees travel this corridor every day and we want them to have a save and smooth commute. Senior Vice President at Choice Management, Chris Fiorillo stated " If we don't have the infrastructure people aren't  going to want to travel"
Using the Medline project as an example, Ms. Halahan really put into perspective just how excessive Orange County taxes really are. If the site of the Medline project were to remain vacant, it would generate approximately $45,000 per year in combined taxes, including town, county, and school. Once the center is built, it would generate approximately $868,000 in taxes during the first year with a Payment in Lieu of Taxes (PILOT). It would take 20 years for the vacant lot to generate the amount of taxes Medline will pay in one year. It would take the vacant lot 678 years to generate what Medline will pay during the life of the PILOT. Lastly, it would take 70 years for the vacant lot to generate what Medline will pay in 1 year, every year, at full taxation.
Ms. Halahan urges businesses and businesspeople to stand up for what they believe is right, and fight for it. She stated:
"We know what it takes to be the best. We ARE the best."

GUEST SPEAKERS 
We heard from Eric Gurstin regarding the Medline project. Medline is an $11.7 billion dollar company who distributes medical products across the continuum of medical care. Medline is looking to build a new state-of-the-art center in the Middletown area that will allow them to grow over time. They want to keep all of their existing 340 employees and can offer up over 250 new jobs within 5 years.
Bill Reed from Danskammer also spoke. Danskammer plans to build a new natural gas plant on the site of the old one. The new energy efficient plant would only take minutes to start generating power as opposed to over 11 hours for the old plant and would be air cooled rather than water cooled, reducing the emission of hot water being put into the Hudson River. The project would produce over 450 local construction jobs and would save Orange County over $20 million a year in energy costs.
CLOSING REMARKS FROM STEVE NEUHAUS
Closing statements were made by Orange County Executive Steve Neuhaus. Mr. Neuhaus spoke very highly about the county that he serves stating that it has been a lot cleaner and technologically advanced than it has been in the past. He indicated that Orange County is beating the trends and has been increasing its worth steadily over the past several years. Mr. Neuhaus explained that this increase of worth is being used to reinvest in the community and to balance the budget.
This article was written by FasTrax Solutions, a software solutions provider specializing in Retail POS, Warehouse Management Systems, Digital Marketing Solutions, and Customer Loyalty and Reward Solutions.