Digital screens and displays are designed to engage customers, connect shoppers with promoted products, and enhance the retail atmosphere.
Ultimately, you want the content you display to increase customer engagement and loyalty, and boost sales as a result… which means your content needs to be creative, polished, and impressive. If you're unsure where to start, try implementing these 5 digital signage content ideas.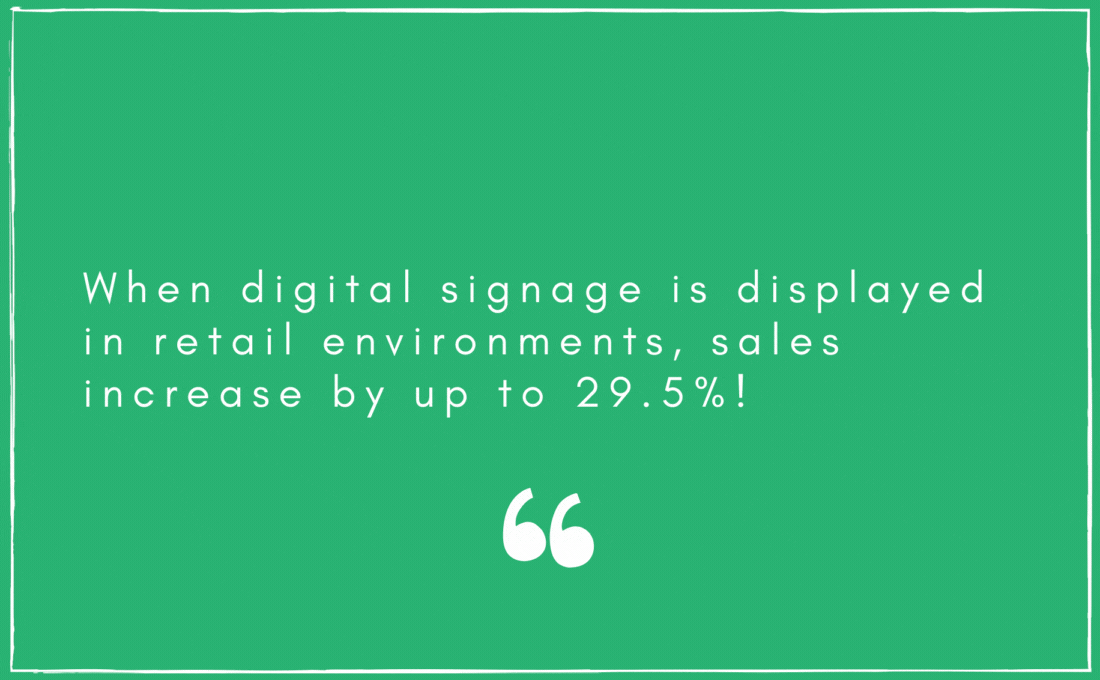 PROMOTE YOUR BEST SELLERS & LESSER KNOWN PRODUCTS
Did you know that 1 out of 5 in-store shoppers purchase unexpected items after being exposed to visual triggers? It's true! When digital signage is displayed in retail environments, sales increase by up to 29.5%. But why? Consumers have more choices now than ever before… and it's overwhelming. With so many options available, shoppers often overlook products and services through no fault of their own. Try giving them a hand. Retailers who use their in-store digital signage to promote best-selling items as well as the lesser-known products they sell succeed at influencing their customers to spring for quality items they wouldn't otherwise know they need.
>> Learn more. See our top tips for designing digital signage.
INTRODUCE YOUR LOYALTY REWARDS PROGRAM
Customer loyalty rewards programs encourage shoppers to return to stores and make frequent purchases. Offering special sales, deals, and discounts exclusively to loyalty members is a fantastic incentive that motivates customers to buy more, because the more they spend, the more they save. One of the biggest business goals for retailers across the board is increasing customer retention, and while loyalty rewards programs have been proven to effectively boost customer retention rates, the greatest challenge for retailers remains getting shoppers to sign up for their programs. This is where digital signage comes in. As an excellent marketing tool, digital signage can help retailers alert shoppers to important information about products, sales, and of course the benefits of enrolling in their customer loyalty rewards programs.
SHARE CLIENT TESTIMONIALS & POSITIVE ONLINE REVIEWS
Happy clients could remain the silent majority of your customer base unless you ask them to write reviews. Positive online reviews have the power to elevate your website's search engine ranking and sway potential customers into visiting your business. Client testimonials and positive reviews are so important in fact that we wrote an entire article on the subject, How To Ask Customers For Positive Testimonials. Great testimonials can also be displayed intermittently on your in-store digital signage, along with positive reviews of your products. Product and service reviews influence consumer buying decisions, because they validate the advertised quality of an item and confirm the consumer's preconceived expectations. If a consumer is on the fence, positive five-star and high-star reviews can sway him or her to buy, which is why retailers go to painstaking measures to ensure their online reviews are glowing. But did you know that displaying a glowing review on your in-store digital signage can be just as effective, if not more so?     
DISPLAY YOUR COMPANY HISTORY & CORPORATE VALUES
Your corporate values plus company history equals your business' unique story, otherwise referred to as your "brand message". Conveying a clear, relatable brand message has the power to emotionally engage customers, which is more valuable these days than using flashy graphics and catchy slogans. You can use your digital signage to display graphics that contain your brand message, just be sure to encapsulate that message in a few short sentences that are easy for your shoppers to digest. Sharing your "story" with your shoppers will strengthen the relationship between them and your brand. Need advice about how to turn your store's values and history into a bite-sized brand message? Check out our article, Building A Brand.
ADVERTISE LIMITED TIME OFFERS
Digital signage provides an excellent marketing tool to showcase your special, time sensitive offers. The fact of the matter is that when discounts and deals have expiration dates, customers are far more likely to take advantage of the opportunity to save than they would if the sale were open-ended. Make your customers aware of your current and upcoming deals by displaying the pertinent sales information on your in-store digital signage. If your store doesn't provide shoppers with limited-time offers on special items, consider experimenting with limited-time options. Depending on the volume of in-store foot traffic that will encounter the limited-time offers you display digitally, as well as the other modes of marketing you use to advertise the sale, you could see a huge spike in sales.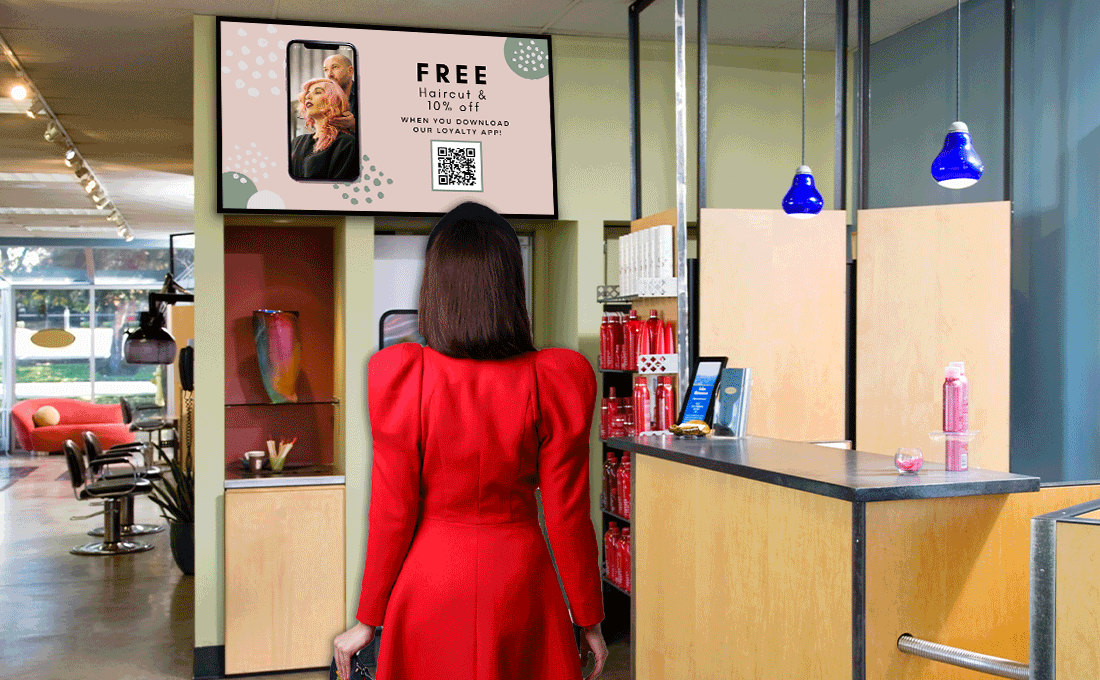 When digital signage presents dynamic graphics, customers become influenced to purchase products that they might not otherwise have known about. For this reason, digital signage is a powerful marketing tool that can alert your customers to special promotions and incentivize additional spending.
In order to accomplish this, you'll need to include CTAs in your signage, and most importantly, you must display professional-looking graphics, images, photos, videos, and other media without exception. Let's take a look…
CALL TO ACTION
Including clear CTAs in your digital signage content messaging is extremely important. While featuring CTAs might not be necessary for every graphic you display on your digital signs, you must still make sure that you are using CTAs here and there so that your customers know to take specific actions. Effective calls-to-action include how to subscribe to your email newsletter and blog; sign-up instructions for your loyalty rewards program along with clearly advertised incentives for enrolling; and how to get the most out of your current in-store sales and seasonal discounts. Use your digital signage to detail clear, concise action steps that customers can follow, and enjoy the sales boost that results.
CONTENT CREATION
Now that you have 5 inspiring and proven content ideas for your in-store digital signage, how will you get down to business and create the actual graphics that will appear on your screens? If you want professional-looking graphics, but don't have the budget to hire a graphic designer, then you might consider FTx AdPro, a user-friendly software solution. AdPro was developed for business owners who want to save time and money without compromising on the quality of their displayed graphics. This cloud-based graphic design software comes with a large assortment of ready-made templates for every industry, which takes the guesswork out of creating in-store promotional campaign content. And best of all, AdPro is completely free.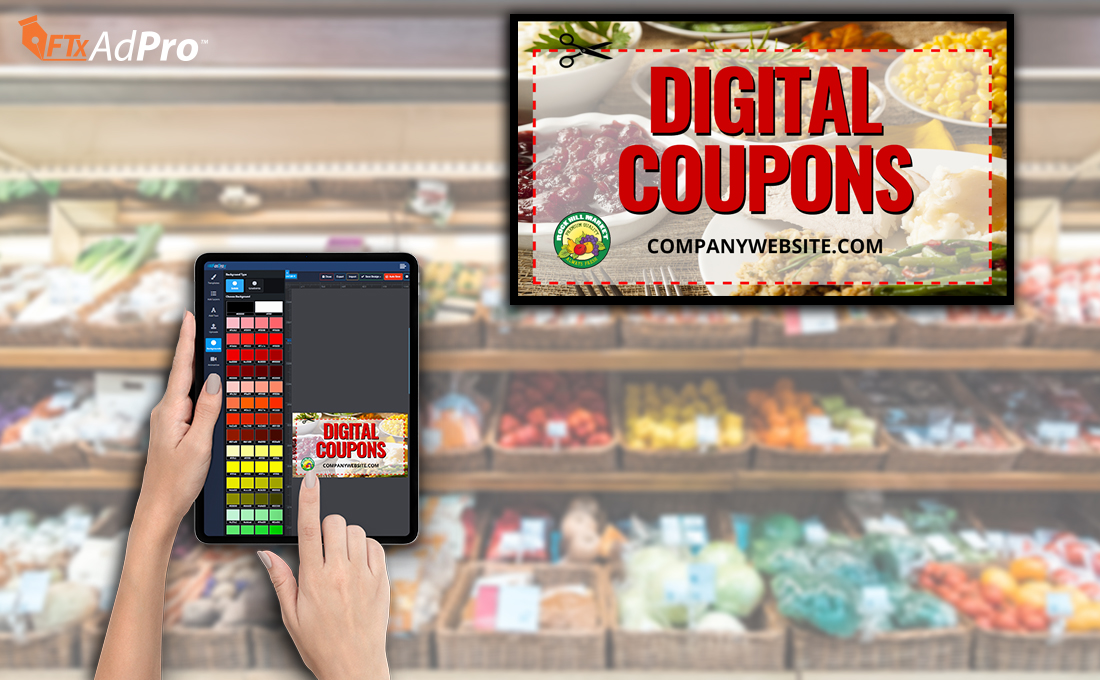 What about businesses, institutes, and organizations outside of the retail industry? Can digital signage enhance corporate environments?
Absolutely! Using digital signage at your office can enrich the atmosphere for employees, managers, and executives. Here is a list of popular digital signage content ideas for corporate environments:
Employee of the month recognition
Team spotlight accolades
Motivating client testimonials
Photos from recent corporate events
Monthly birthday shout-outs
Employee anniversaries
RSVP instructions for upcoming holiday parties
Corporate calendar
Introduce new employees
Conference room schedules
Safety messages
Interesting life hacks
Positive affirmations
Company news & milestones
And so much more!Want more content ideas for your digital signage? Check out our article Digital Signage Tips for design tips, signage placement tricks, content tips, software advice, and pointers on how to get the most out of your digital signage whether you're running a B2C or B2B company. If you don't yet have digital signage at your business and would like to take the first step in upgrading from traditional to interactive digital signs, FTx Digital Signage Solutions can have you up-and-running in no time. What can FTx Digital Signage do for you?
Automatically updates signage pricing directly from your POS system
Manages displays from your home or office PC, or from any device connected to the internet
Comes with pre-made, industry-specific, professionally designed templates that are fast and easy to customizeOur digital signage system comes with AdPro, our easy-to-use graphic design software, at no additional cost. Contact us today to find out what FTx Solutions can do for you!