Is your business ready for the 4th of July Weekend?
This July 4th, Americans across the nation will commemorate our 245th year of independence from the British monarch by celebrating with friends, family, and fireworks! Independence Day is also a time when consumers splurge on patriotic, decorative, and festive items to get into the spirit of the holiday. This year, the 4th of July falls on a Sunday, which means that retailers and restaurant owners have all weekend to capitalize on their customers' enthusiasm for democracy, liberty, and all the hot dogs they can eat!        
If you're looking for inspiration to help your business make the most out of the upcoming 4th of July weekend, we've put together 5 of the most creative promotional ideas to draw an enthusiastic crowd, celebrate patriotic camaraderie, and boost sales.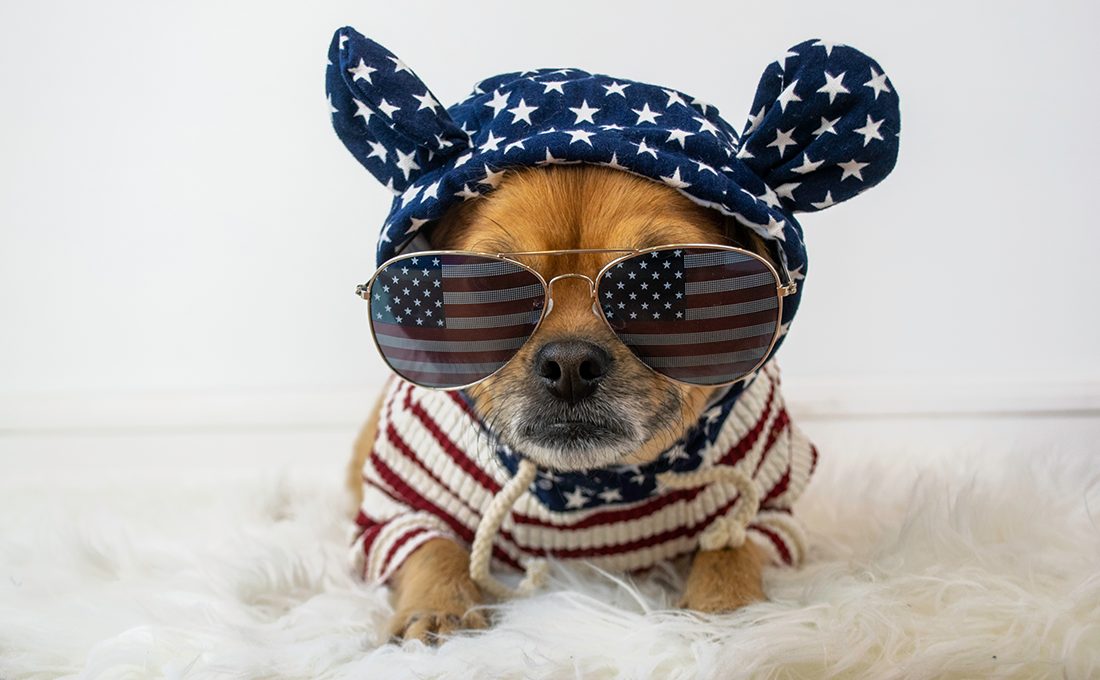 PROMOTE PATRIOTIC PRODUCTS (IDEA #1)
Promoting patriotic products at your retail store or restaurant location can be as easy as showcasing reds, whites, and blues. Independence Day is all about celebrating freedom and enjoying the unique benefits of being American. By flaunting the American flag's stars, stripes, and iconic red, white, and blue colors, you will provide your customers with a fun shopping experience that will help them remember your brand long after the fireworks displays have cleared from the night sky. Let's take a look at what clothing stores, restaurants, and pet retailers can do specifically to promote patriotic products.
CLOTHING STORES
On their own, red, white, and blue tee-shirts might not be your top sellers, but this Independence Day, try arranging your store with an American flag color scheme. And don't forget to place 4th of July inspired bandanas and hats near the checkout registers to promote the holiday spirit, as well as last-minute sales.
RESTAURANTS
There is an abundance of July 4th menu items you can offer customers to make the most out of Independence Day weekend. Make your restaurant pop with patriotism by serving fun cocktails and appetizers like Fireworks Daiquiris, Red-White-and-Blue Cocktails, and classic hot dogs, but don't forget to stick a tiny American flag toothpick in each one.
PET RETAILERS
Pet parents never fail to include their furry friends in the 4th of July festivities, which is why promoting patriotic products at your pet supply store is a must. Put your POS to work for you by displaying doggie calming treats on the customer-facing POS screens. Your customers will appreciate last-minute solutions that help prevent Fido from flipping out at the sound of fireworks.
FINAL TIP
Promote your patriotic retail products or restaurant food and beverage items using FTx POS. Our fully customizable Point-of-Sale system comes with a full suite of marketing tools, including Uplift, an automated sales strategy that displays pop-up scripts for your cashiers to read to customers during the checkout process to help them upsell and cross-sell all those patriotic, add-on items.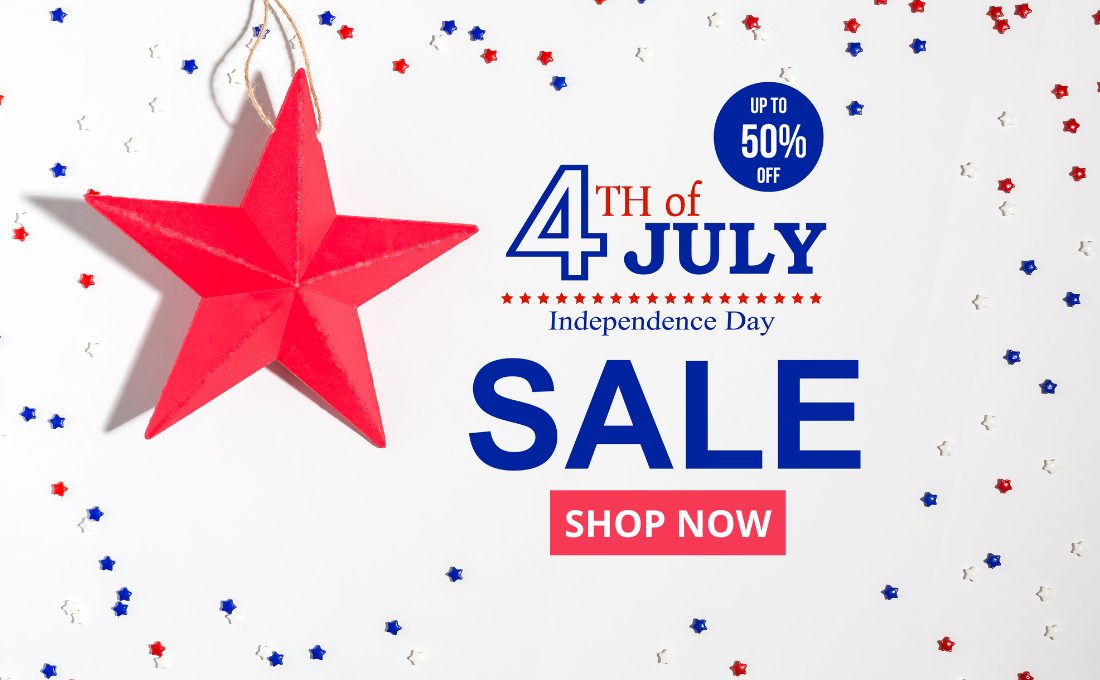 HOST A FIRE SALE (IDEA #2)
Stoke the barbeque and light up the sparklers, it's time for a good old fashioned fire sale! You don't have to be going out of business to reap the immense benefits that come with hosting a fire sale. Once upon a time, fire sales were invented to quickly sell fire-damaged goods at a huge discount. But in today's consumer market, retailers can use these limited-time offers to drive sales during a very short window of time. In anticipation of this Independence Day, host a fire sale to remember and offer your customers a chance to score great products at huge discounts if they act fast. Read on to discover proven fire sales strategies that will work for any clothing store, restaurant, or pet retailer.
CLOTHING STORES
Just because you manage a retail store doesn't mean you should skip digital marketing. Fire sales are one of the easiest promotions to market on social media, especially when you tag your location in your posts. Be sure to advertise your biggest discounts and any freedom-loving freebies you're offering, and your posts will catch on like wildfire.
RESTAURANTS
Restaurants don't typically host fire sales, which is why you should. By using clear promotional content that advertises the exact time frame of your fire sale menu items, you can pack your restaurant with customers that are ready to order round after round. Leading up to the fire sale event, digital marketing will be your best friend so don't forget to post, hashtag, and share.
PET RETAILERS
Pet supply store owners are no strangers to slower moving products. When those slow-moving products also happen to be perishable, like dog and cat food, then spoilage and waste are bound to happen. This is when hosting a fire sale will come in handy. By timing your sale with the 4th of July, you will easily move products and turn a profit.
FINAL TIP
Want to really get the word out about your Independence Day fire sale? FTx 360 can make your 4th of July promotions hotter than a five-alarm fire! Using a powerful combination of social media marketing, email marketing, and online customer reviews procurement and management, our digital marketing specialists can market your brand to drive foot traffic to your location throughout the holiday weekend.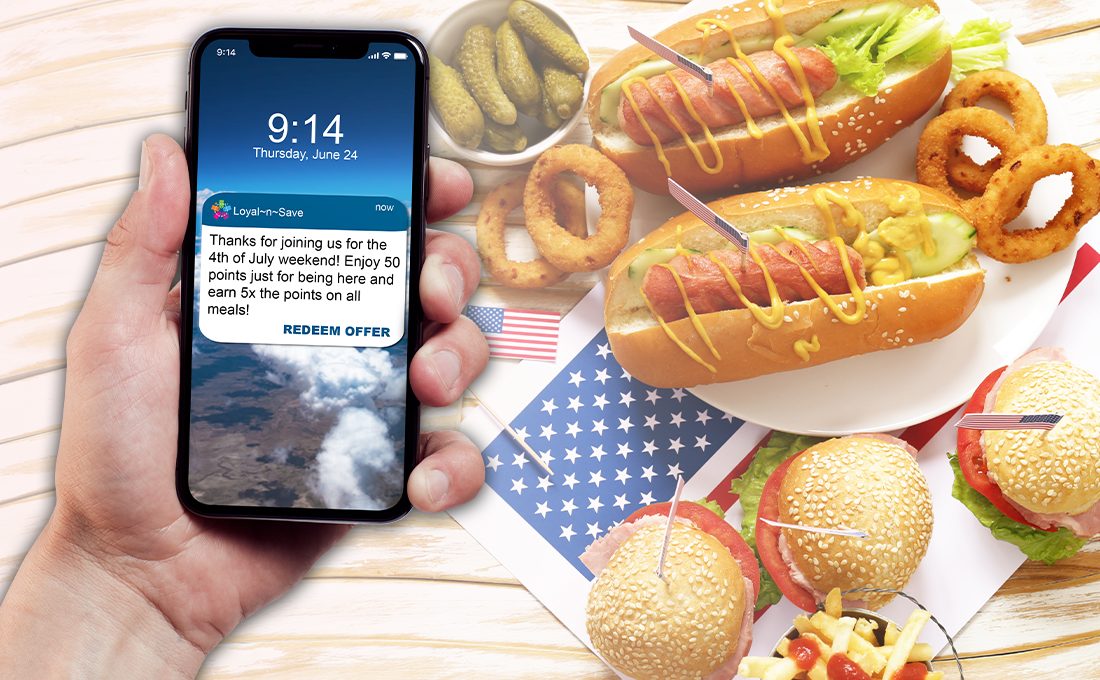 OFFER STAR-SPANGLED BONUS POINTS (IDEA #3)
Do you have a customer loyalty rewards program in place at your retail store or restaurant? Loyalty programs increase customer retention thanks to their built-in rewards structures, which are known to effectively market relevant items to interested members. Every holiday is an opportunity to reinvigorate your loyalty members. By offering 4th-of-July-themed deals, discounts, and rewards incentives, you can drive foot traffic to your location and boost sales. We've come up with the best star-spangled bonus points ideas to offer your loyalty members this Independence Day, take a look.
CLOTHING STORES
You've already arranged your most patriotic products so that customers can't miss them. Now it's time to allocate rewards points to those products. Your loyalty members will appreciate exclusive access to great deals and discounts on the liberty-loving apparel they were planning on buying anyway. You can even offer bonus points to members just for shopping with you throughout the 4th of July weekend!
RESTAURANTS
Nothing says, "we appreciate your business," like giving your loyal foodies bonus points just for walking into your restaurant on the Friday, Saturday, and Sunday of Independence Day weekend. Best of all, by running a bonus points promotion for July 4th, you'll increase new customer loyalty enrollees into your rewards program.
PET RETAILERS
If you already have a customer loyalty rewards program in place at your pet supply store, then you know that it can be a powerful tool when used to digitally market your best-sellers and customer favorites. For the 4th of July weekend, try offering bonus points to any loyalty member who comes into the store with their doggie decked out in a freedom-loving, USA costume.
FINAL TIP
Do you love these bonus points ideas, but don't yet have a customer loyalty rewards program in place at your business? FTx Loyalty offers easy-to-launch rewards programs for small, mid-sized, and enterprise businesses of all industries. Simply choose the package that fits your needs and let our preconstructed rewards structures work for you!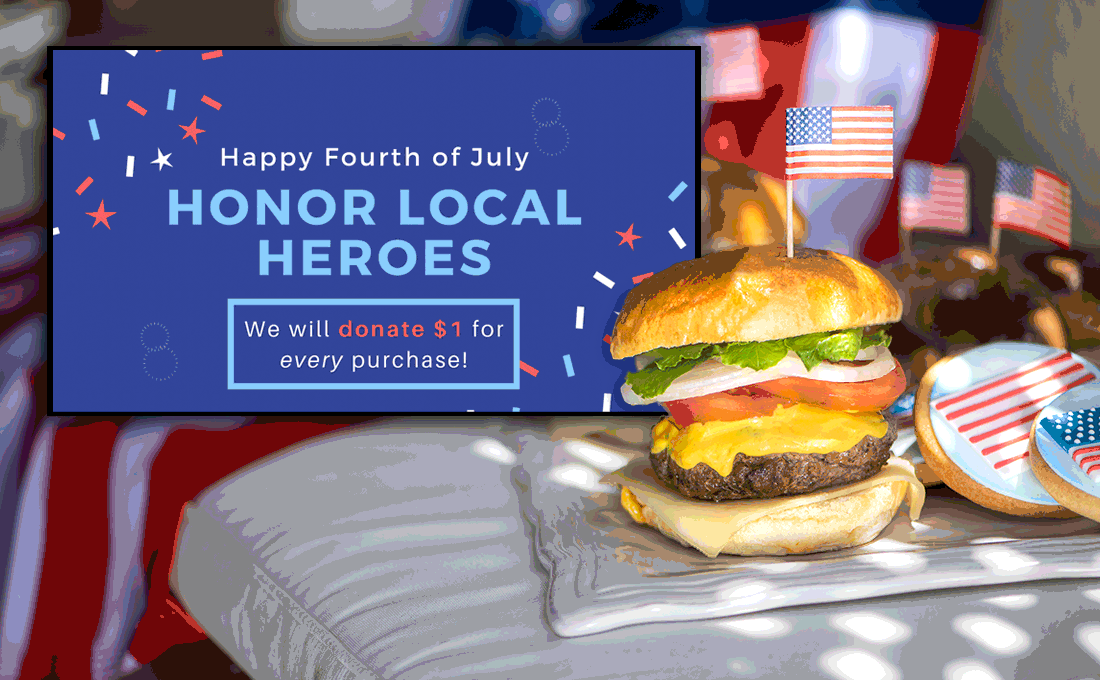 HONOR LOCAL HEROES (IDEA #4)
This Independence Day, memorialize the brave soldiers who fought with all they had and gave their lives in order to secure our freedom in 1776 by honoring the local heroes near you. No matter where your retail store or restaurant is located, there is no shortage of local heroes to celebrate, thanks to first responders, medical personnel, and volunteers. Honoring a local hero at your business can be as simple as incorporating a "hero cameo" into your digital signage content. All you need is a photograph of the local hero, information about their heroic work, their expressed permission, and of course these tailor-made tips for clothing stores, restaurants, and pet retailers.
CLOTHING STORES
The retail industry in general was hit pretty hard from the COVID-19-induced shutdowns. More than a year has passed since retailers were ordered to temporarily close their doors, but today the industry is once again looking bright. Amplify your 4th of July sales by honoring a local hero. Try giving them a wardrobe makeover then take a few photos of them to display on your in-store digital signage with all the information your customers need to get to know the local hero in their area.
RESTAURANTS
There's a hero in every neighborhood, and those heroes are often associated with honorable organizations. Try honoring a local hero and their organization by running a 4th of July promotion where your restaurant will donate $1 for every order your customers place throughout the holiday weekend. Put your digital signage to work by promoting this thoughtful idea on all of your restaurant screens.
PET RETAILERS
Showcase local heroes and their adorable pets as part of your Independence Day promotions. Pet parents will love seeing the first responders, medical professionals, and volunteers who served the surrounding community throughout the pandemic displayed on your in-store digital signage. You can also post your local hero content to social media to attract even more customers to your pet supply store.
FINAL TIP
Install FTx Digital Signage at your location to promote your Independence Day sales on crystal-clear LED screens that wow customers, build brand awareness, and increase revenue. FTx Digital Signage comes with the FTx Control Center, an organized software dashboard that makes scheduling your digital content easy, fast, and fun.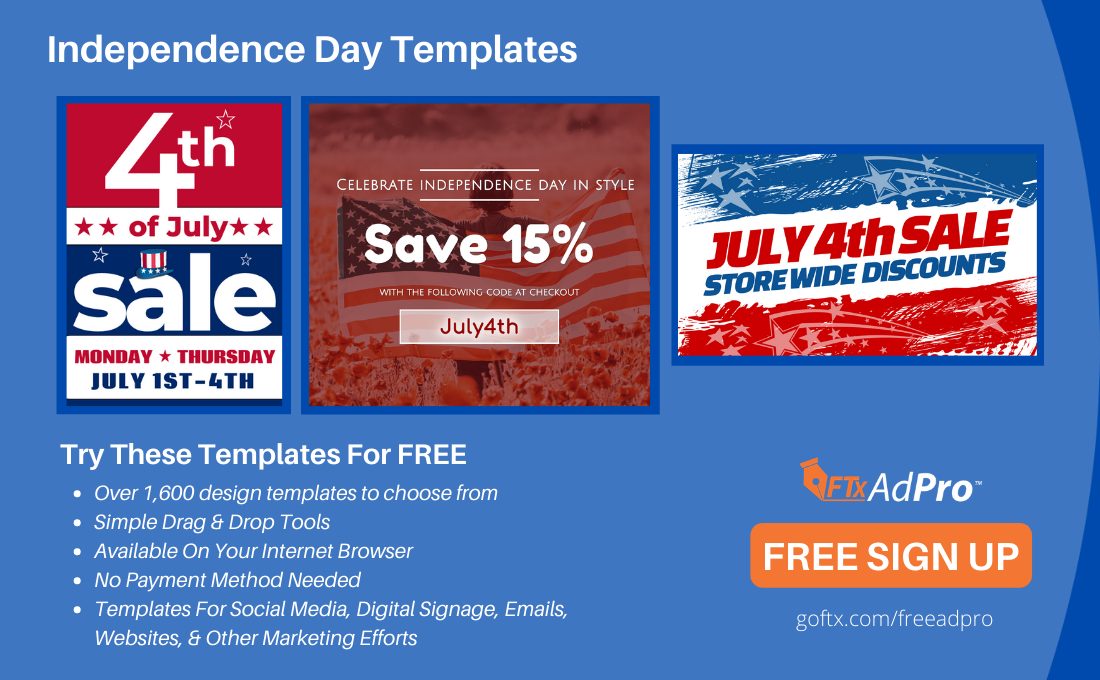 USE INDEPENDENCE DAY TEMPLATES, GRAPHICS, & VECTORS (IDEA #5)
Retailers and restaurant owners know that on-site advertising is the #1 sales driver. Digital signage has swiftly replaced printed signs, saving business owners time, money, and aggravation. Displaying high-quality content on your screens is the key to ensuring that your digital signage will effectively promote your 4th of July sales and increase revenue. Start promoting your Independence Day items now. All you need is user-friendly, cloud-based graphic design software that comes with pre-made July 4th templates, graphics, and vectors.
CLOTHING STORES
Anyone who works in retail knows that an ad is only as good as the content it displays. But these days, what small business clothing retailer can afford to hire a graphic designer? Savvy retailers have learned that they can avoid professional fees by choosing a user-friendly software solution that comes with ready-made templates. Just be sure to go with a graphic design software provider that has a full library of Independence Day themed templates that allow you to upload and drag-and-drop your own branded store items as you see fit.
RESTAURANTS
Promote your Independence Day deals, discounts, and loyalty incentives on every digital marketing channel available—Google My Business, Facebook, Instagram, and any other platform where you've accumulated followers. The trick is to post professional-looking content, which is only possible when you choose a graphic design software solution that makes creating social media posts fast and easy.
PET RETAILERS
Boost in-store sales this 4th of July weekend by displaying professional-looking Independence Day promotions on all of your in-store digital signage. Once you've chosen the best graphic design software for your skill level, import photos of your most loyal customers with their pets, overlay text, adjust those "reds, whites, and blues," and you'll be able to transform your entire pet supply store with the click of a button!
FINAL TIP
Want to try a no-risk software solution that delivers powerful results? We recommend FTx AdPro, our forever-free graphic design software that is compatible with FTx Digital Signage. Check out the cool Independence Day ideas that clothing stores, restaurants, and pet retailers can display with the 4th of July templates from free AdPro.

GET TO KNOW FTX
Are you ready to increase sales? FTx Solutions has the keys to unlock your profit potential. Increase sales, improve your decision-making capabilities, implement effective marketing campaigns, and create additional revenue with our business solutions for retailers and restaurant owners.
FTx POS provides a truly user-friendly Point-of-Sale system that serves as a marketing powerhouse. Utilizing a fully-customizable touchscreen interface, our POS is intuitive and simplified on the surface, yet dynamic at its core, collecting comprehensive data during every transaction. Create custom configurable discounts triggered by the criteria you designate and schedule all of your promotions to run automatically on the dates of your choosing.
Our brand-new digital marketing agency, FTx 360 offers a wide array of digital marketing services at affordable prices. Our professional marketing specialists take pride in their work and enjoy the relationship-building process of proving themselves to new clients. Whether you need web design & development, organic and local SEO, social media marketing, or online customer reviews procurement and management, we do it all and love every minute of it!
Want to build strong relationships with your customers and earn next-level customer loyalty? FTx offers three customer loyalty rewards programs. Our Integrated Loyalty solution comes standard with our FTx POS system. Integrated Loyalty makes it easy to participate in manufacturer loyalty programs, as well as create your own loyalty campaigns. Our next program, Enhanced Loyalty, is a premium upgrade that lets you run an unlimited number of loyalty campaigns consecutively. You can also track and measure the effectiveness of your campaigns using Enhanced Loyalty's robust reporting module. Lastly, our Cloud Loyalty solution offers a unique, multi-tiered marketing platform where your customers can not only actively participate in your promotions, but they can also invite their friends and family to join as well.
FTx Digital Signage can promote and sell your items for you. Our in-store digital signs have display capabilities that include menu boards, dayparting, split-screen advertising, and rotating ad content to keep customers engaged and informed. With our user-friendly Control Center, you can schedule your digital content days, weeks, months, or even years in advance. Plus, making on-the-fly changes from any device is easy. Best of all, FTx offers compatible design software, empowering you to create 100% of your digital content yourself without having to hire a professional graphic designer. FTx AdPro is free and signing up to get started does not require any payment information.
Contact our marketing specialists today to find out more about what FTx Solutions can do for you.