Even with an unprecedented pandemic waxing and waning across the globe, the pet industry is thriving. Similar to our daily need to buy and consume groceries and other essential goods, our pets require the same necessities, which only pet retailers can provide.
While 2020 data hasn't yet been compiled, the American Pet Products Association recorded increased spending within the pet industry from 2015 to 2016 that rose 22%. What was the dollar value of this 22% increase? $110 billion dollars.
That's right, pet industry spending grew from $510 billion to $620 billion in a single year, and that was way before all of humanity was forced to stay home and entertain themselves online.
Now more than ever, it's crucial that you promote your pet business online so that it stands out from the other pet retailers in your neighborhood and garners as big a piece of that billion-dollar pie as possible.
But how?
GO WHERE THE PET OWNERS ARE
Before we get down to the sticks and bones of how to successfully promote and market your pet business online with the leading reopening strategy hack available today, it's important to understand where pet owners tend to congregate on the internet and why. If you know where to go to connect with potential customers, you will be in a position to communicate effectively and personalize your engagement with them, and ultimately endear them to your brand.
So, where do pet owners spend their time online?
In the vast, virtual expanse of social media, namely Facebook, Instagram, Twitter, Snapchat, Tik Tok, and others. If a new social media platform popped up yesterday, it's safe to bet that pet owners are using it today. They're extremely active and in order to engage with them, you're going to need to understand why.
Pet owners regard their pets as members of the family, and they enjoy using social media to demonstrate how special their pets are to them. Especially this side of a global pandemic in 2020, pet pictures on social media are free from politics and offer relief in the form of cute posts from the otherwise stressful situation most of us have found ourselves in. Pet owners flock to these social media platforms to escape their own worries and revel in the joy of their cute, cuddly pets as well as other peoples.
In fact, according to a recent study by BarkBox, pet owners talk about their dogs or post a picture of them on social media an average of 6 times per week, and that activity is separate from the time they spend watching other peoples' dog videos and perusing other peoples' pet posts, which totals about 3 times per week.
Some pet owners go even further than perusing pet pics online to keep things relaxed and lively throughout their quarantine. They've gone so far as to create social media profiles for their pets! Yes, 10% of pet owners have made Facebook, Instagram, and Snapchat accounts as if they're their own pets. That's certainly one way to find relief from the everyday stresses of human life!
With these statistics in mind, it's easy to see why social media is such an important marketing tool for pet retailers like yourself. So, here's how you can boost your social media presence in a polished, personalized, and professional way to increase online engagement and attract customers into your pet retail store.
BRAND YOUR BUSINESS ON SOCIAL MEDIA
By now, we hope you're convinced that social media is the #1 place to connect with pet owners and lovers. Once you get into the groove of posting, sharing, and liking, it'll be easy to join in with your potential customers' conversations.
But before you can get active with pet lovers on social media, you'll need to unify and strengthen your brand, and generate some getting-started content that clearly captures and conveys the message, essence, and personality of your pet store.
What are you all about? Kisses and cuddles? Spoiling pets? Deals and discounts? All of the above? Whatever persona your pet retail store embodies, you're going to want to clearly brand its essence with a clever slogan, color scheme, font, and photos. For inspiration, here are a few examples: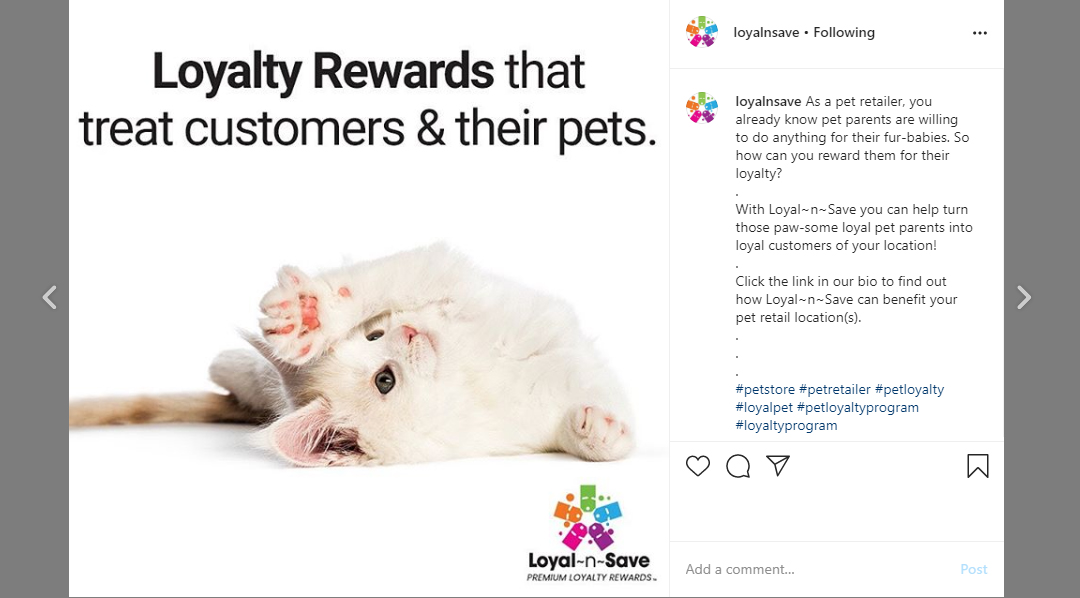 Though this social media post doesn't expressly state that this pet retailer prides itself on catering to pure bred dogs who win blue ribbon competitions, the essence of its brand carries through in the image. When you look at it, words like regal, upscale, and accomplished probably come to mind, with all of the connotations you could imagine.
Now, compare that to this other exotic pet retailer's social media post: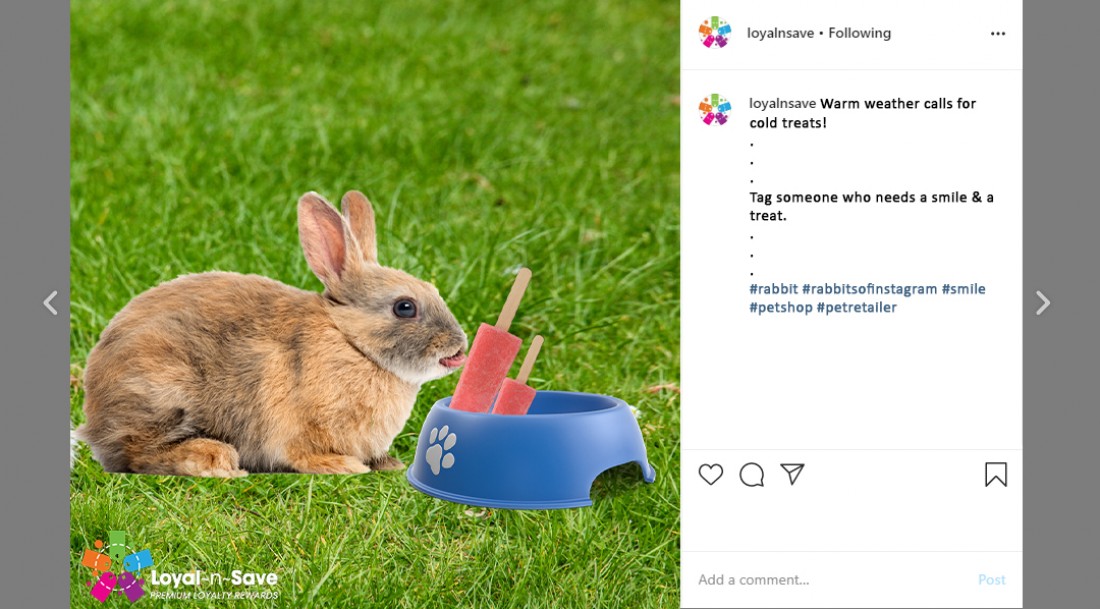 This retailer's brand is completely different and yet it's just as strong as the previous company's. In essence, anyone looking at this social media post will glean the humor, relatability, and affordability of this store. Bunny-rabbit owners are a distinct breed. If you have seven parrots, then you know they can learn to harmonize the happy birthday song. People who collect exotic fish can see the character in every blowfish, starfish, and hermit crab. This exotic pet retailer gets it and their social media posts show that they're in the exotic pet club, too. Other exotic pet owners on social media will be more likely to engage with and trust in their brand, because their brand speaks for itself with a very unique voice that's believable.
Hopefully by now, you've been inspired and the creative juices are flowing in terms of the precise style of how you'd like to brand your pet business as you reopen your store according to your state's COVID-19 guidelines. In other words, you're ready to take the next step, so keep reading to find out the best reopening strategy hack for how to successfully promote your pet business online.
CHOOSE THE BEST AD BUILDING SOFTWARE FOR PROFESSIONAL POSTS
The million-dollar question you're probably asking yourself right now is, how can you create social media posts that stand out from all of the other images in your audience's Facebook, Instagram, and other social media feeds? Even more importantly, how can you design images that capture your brand, increase engagement, and drive traffic to your website, blog, and ultimately into your store?
You're going to need the best design tool that you can get your hands on. But because you're a pet retailer and not a career graphic designer, "the best" software for you isn't going to be the same as the kid who just graduated F.I.T. or R.I.S.D. last month. There are a lot of design tools out there to create awesome social media posts, but there's only one that was designed specifically for pet retailers like you.
After evaluating the needs of pet business owners like you and also testing and assessing today's leading software, we discovered a few key criteria that you're going to need in your ad software. Here they are, in no particular order:
Easy and intuitive enough for amateur designers
Built universally to export files for social media as well as digitally display on in-store signs for thorough, uniform branding
Includes professional-looking, pre-designed templates with a library of pet stock images
Multi-purpose capabilities that enable you to generate the correct social media post size, as well as email banners, postcards, flyers, and blog images so that you get the most mileage out of every single design you create
Which software do we recommend to pet retailers like you?
Our cloud-based software is the leading ad graphic design tool for business owners, not trained graphic designers, and has been built specifically for pet retailers.
AdPro takes the guess work out of creating ads for all of your marketing campaigns, both online and also in-store because the graphics you design in AdPro can be displayed on all of your in-store digital signage. AdPro's large assortment of ready-made ad templates are completely customizable so you can feature best-selling products as well as promote time-sensitive deals and discounts, whether in your social media posts and ads, or on your store signs. Just choose the template that best fits your needs, change the text, photos, or background, and create your ads in no time…
…and also, we should probably mention the best feature of FasTrax AdPro…
…It's available for free for the rest of 2020!
FasTrax understands what business owners in the pet retail industry have gone through since these lockdown orders were put into place months ago. Pet shops across the board have suffered and everyone at FasTrax wants you to get back on your business feet as easily, quickly, and cost-effectively as possible, which is why we're offering FREE AdPro for the rest of 2020.           
You can create gorgeous graphics to advertise your pet supply store all year until December 31, 2020 for free using our software!
Create branded images for all of your print, web, email, and social media campaigns by designing and customizing rotating, animated, dynamic graphics that are easily displayed directly to your in-store digital signage as well. Our easy-to-use software is cloud-based and all digital work can be downloaded easily for fast upload onto social media and other online campaigns such as your email newsletters, website updates, and blogs. 
FasTrax AdPro Features
Displays high res, engaging images, graphics, and video directly to your digital signs
Choose from over 1,000 pre-designed templates built specifically for pet stores
Peruse an expansive photo library to build your ads from the ground up
Customize your ads with layering tools and intuitive navigation like the pros
Select eye-catching animation graphics to increase customer engagement and sales
Design and edit your ads from anywhere using our cloud-based FTx Control Center
Create branded images for print, web, email marketing, and social media campaigns
Take us up on our FREE USE OFFER from FasTrax AdPro throughout the rest of 2020 to support your pet shop's reopening efforts!
Learn how FasTrax AdPro can benefit your pet retail reopening strategy, especially when implemented with FasTrax Digital Signage, by contacting our FasTrax team today. We're also offering a special discounted promotion for FasTrax Digital Signage in conjunction with free AdPro, so if you really want to be back in business and better than ever, be sure to ask our team about how Digital Signage can work for you.