Who doesn't love convenience? We certainly do! Why drive around town, stopping in several stores, when you can conveniently purchase a wide array of items at one location where the lines are short and the prices are decent?
Customers from all walks of life appreciate the expediency that convenience stores offer. In fact, consumers place such a high premium on shopping quickly that they actually don't bat an eye at the notoriously, albeit slightly, inflated prices found at convenience stores. People are willing to spend an extra dime, and even an extra dollar, on items they can grab quickly on-the-go.
Did you know that installing digital signage at your convenience store can actually provide your shoppers with even more convenience? It's true!
Digital signage can alert customers to promotional deals, encourage cross-selling, boost upselling, and even help organize your store so that shoppers are able to locate relevant products quickly and take advantage of worthwhile deals they wouldn't otherwise necessarily know about. That's why digital signage is an important c-store POS feature.
Let's take a look at how digital signage can be used at convenience stores as a powerful marketing medium to improve customer satisfaction, customer loyalty, and overall business growth.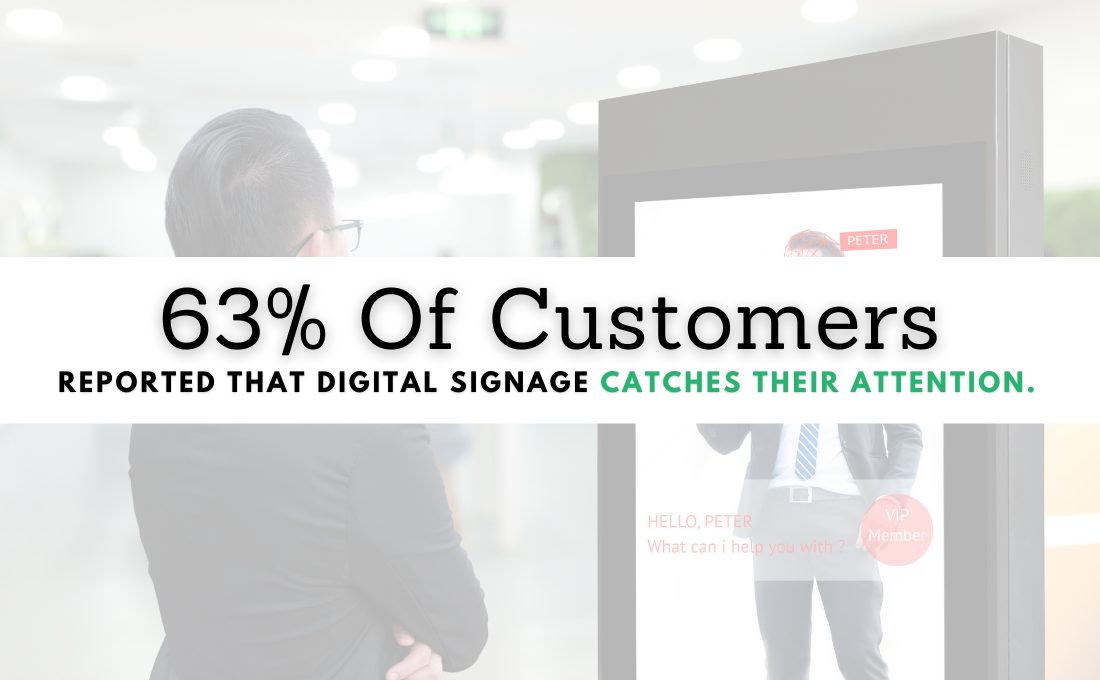 63% of customers reported that digital signage catches their attention.
DIGITAL SIGNAGE IN THE FORECOURT
From the moment a customer steers their car into the forecourt of a convenience store, he or she is exposed to advertisement signs, the content of which ranges from gasoline prices, to the cost of a cup of freshly brewed coffee inside, and everything in-between. In fact, the average customer spends between 2 – 4 minutes filling his or her tank at the fueling pump. When it comes to advertising and marketing, having a consumer's attention for 4 whole minutes is extremely valuable!
Traditional signage simply doesn't attract consumer attention the way digital signage does, which means that if you only have static signs displayed in the forecourt of your convenience store, you are wasting valuable advertising minutes. Though using fuel price flip signs certainly gets the job done, if you're using traditional signage for all of your forecourt marketing, your customers are probably blind to them.
It's very likely that no prices fluctuate more at your convenience store than the gasoline prices. Manually adjusting the fluctuating costs of fuel displayed on your flip signs can be time consuming, if not dangerous. With digital signage replacing traditional flip signs, you can update your gasoline sales prices from any computer or device that's connected to the internet.
Digital signage can increase brand awareness by up to 31%.
DIGITAL SIGNAGE KIOSKS AT THE FUELING PUMPS
Another advertising method to take advantage of while customers pump gas for those precious 2 – 4 minutes comes when you integrate digital signage into your fueling pump stations. Fueling pump kiosks that have small digital screens can effectively market to customers, but only if the content displayed is relevant, helpful, or otherwise interesting, such as an irresistible promotion.
When fueling pump kiosk screens first came out, many gas stations assumed that their customers would enjoy watching content similar to their favorite TV channel. These gas stations and convenience stores used digital content that ranged from celebrity news to sports highlights, but you know what? The content failed to capture customer attention—most customers found it either distracting or annoying, in fact—and it also failed to generate sales.
Once you install digital signage kiosks at your fueling pumps, limit the content you display to include information about your current in-store promotions, information about your customer loyalty rewards program with a CTA detailing how to enroll, and using QR codes that customers can use to discover more about your convenience store and brand.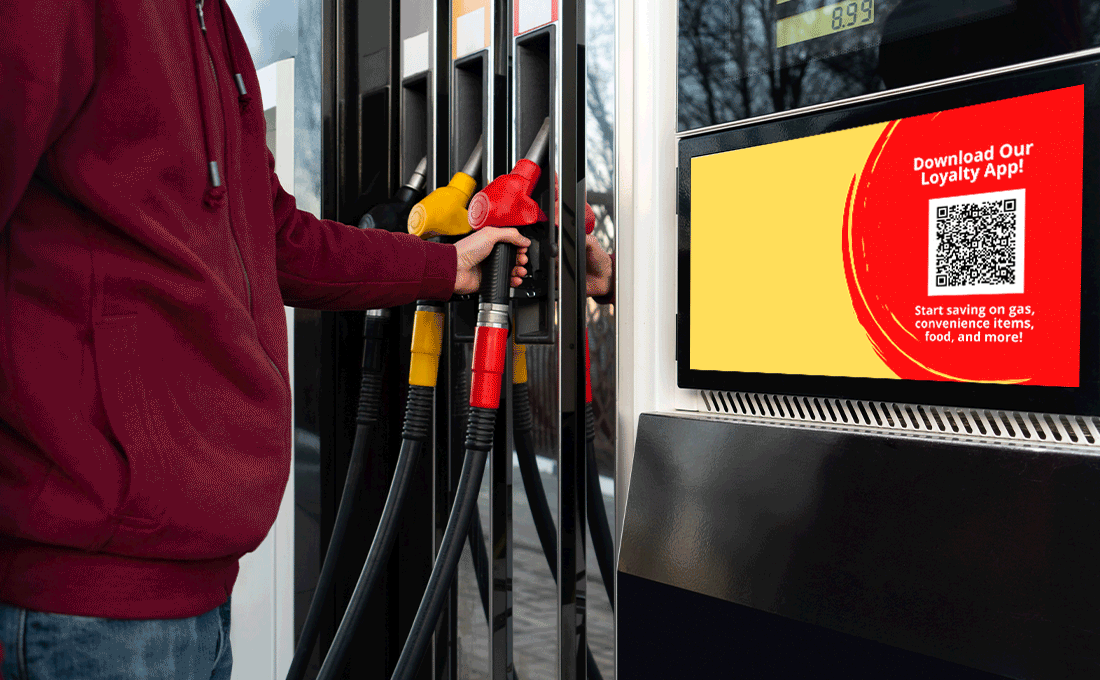 86% of small business owners agree that digital signage has brought more customers into their stores.
DUAL-SIDED DIGITAL SIGNS FOR STOREFRONT WINDOWS
Did you know that customers are unlikely to feel comfortable walking into a convenience store if the storefront windows are covered? In order to feel psychologically at ease, customers need to be able to see through the storefront windows into the actual store, which is why it's extremely important not to clutter your storefront windows with traditional printed advertisements.
Dual-sided digital signs can greatly consolidate space in your windows, and because any given digital sign can rotate countless promotions, using just one in your storefront window can get the job of 20 traditional signs done. Plus, strategically placed dual-sided screens can market to your incoming customers while also recommending add-on products to your in-store shoppers.
If you're on a budget and are only able to invest in one digital sign, we strongly suggest you install a dual-sided digital sign. It's cost-effective and you can use it in more than one way. You can even play around with where you place it. Dual-sided digital signs are basically the "sandwich boards" of 2021, meaning they're affordable, durable, portable, and best of all, effective.
Digital signage at the deli counter can reduce perceived wait times by up to 35%.
DIGITAL SIGNAGE AT THE DELICATESSEN
One of the absolute greatest conveniences that convenience stores offer their customers is the opportunity to pick up a freshly made meal. Nowadays, many convenience stores have complete delicatessens, and some even provide seating inside. If your convenience store offers full menus for breakfast, lunch, and dinner, then you need digital signage menu boards to present your menus in an organized fashion to your customers.
With digital signage menu boards you can easily add and modify menu items, prices, and descriptions from any internet-connected computer or device. You can add images and photographs of meals, and schedule rotating content so that your customers can decide between all the items you offer. You can even use dayparting so that your menu boards automatically switch from breakfast to lunch, and from lunch to dinner at the appropriate times of day.
When digital signage is used at the deli, it's a lot like having a silent sales associate! Inform your customers about meal specials, upsell add-on items, and cross-sell relevant products. It's all about the content you display. You can even encourage your customers to join your customer loyalty rewards program by advertising the rewards points system that could lead to them earning one free sandwich a month!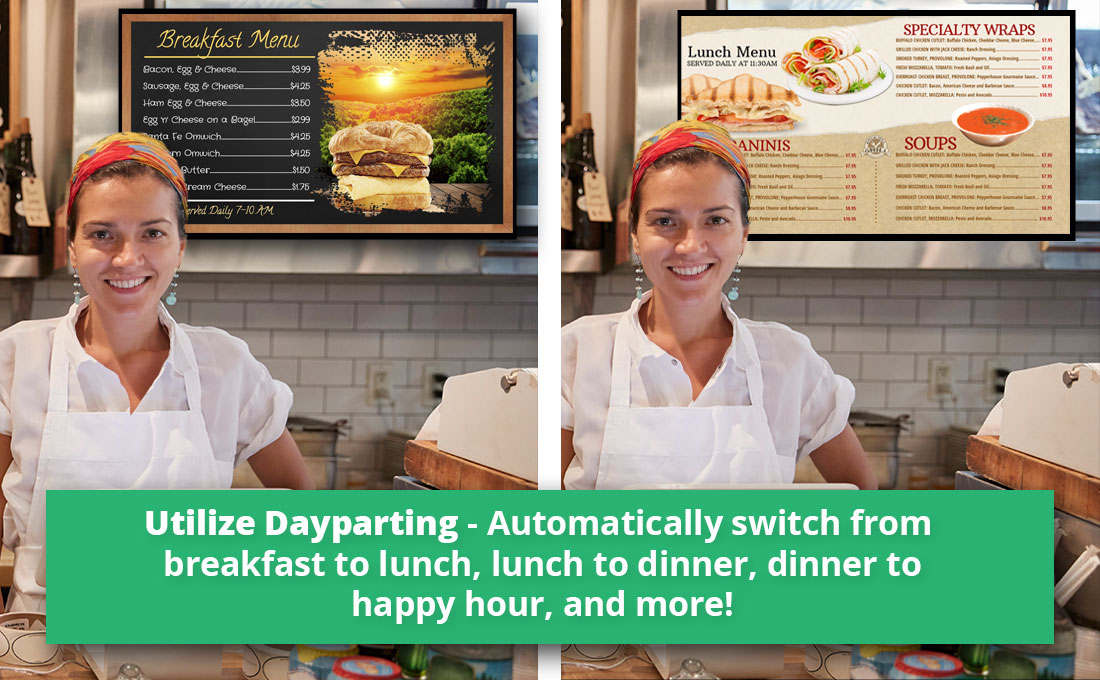 Digital signage costs less than 10% the total expense of any other advertising medium.
DIGITAL SIGNAGE FOR GROCERY STORES & SUPERMARKETS
So far, we've covered the myriad ways in which digital signage can benefit convenience stores and gas stations. When digital screens are used to promote deals, discounts, and specialty items to customers, the result is boosted sales throughout every step of the customer's journey. But convenience stores aren't the only businesses that can benefit from upgrading from traditional to digital signs.
Grocery stores and even larger supermarkets can greatly benefit from using digital signage. Today's modern customer expects an efficient yet personalized shopping experience when he or she visits their local grocery store. Yes, COVID-19 caused a noticeable uptick in online grocery shopping, but the fact of the matter is that most consumers who tried online grocery shopping ended up discontinuing the service because the delivery fees were too darn high.
That being said, shoppers that venture into grocery stores and supermarkets have a common objective in mind thanks to COVID-19 lingering around, and that objective is to get in, get stuff, and get out as quickly as possible.
Grocery store digital signage can promote sales, display promotions, boost brand image, and encourage customer loyalty rewards program enrollment. In addition, digital signage can help shoppers expedite the entire shopping process, causing their trip to be as efficient as possible. You might be wondering, but how?
• Digital signage can display wayfinding maps and aisle floor plans, listing item categories
• Digital signage can display price comparisons on popular items
• Digital signage can educate shoppers about special bulk sales and long-term savings
• Digital signage can encourage impulse purchases throughout the checkout processAs we've covered in this article, one of the most important marketing strategies for convenience stores is digital signage, but using electronic signs to market to your customers will only be effective if the content you display is top-notch.Digital signage packages include both hardware and software, but not all digital signage software includes user-friendly graphic design add-ons that you can use to create all of your digital content. But FTx Digital Signage does include user-friendly graphic design software, AdPro, and best of all, this add-on comes completely free of charge.
FTx AdPro makes creating your digital ads, promotions, and menus quick and easy. Once you've finished creating your graphics and content, you can simply use our organized dashboard to schedule your ads to run on one or more of your convenience store's screens, whether inside at your customer-facing POS displays or outside at the fueling pump kiosks. With AdPro, you can adjust, edit, and update your content easily and export it to your digital signage with the click of a button.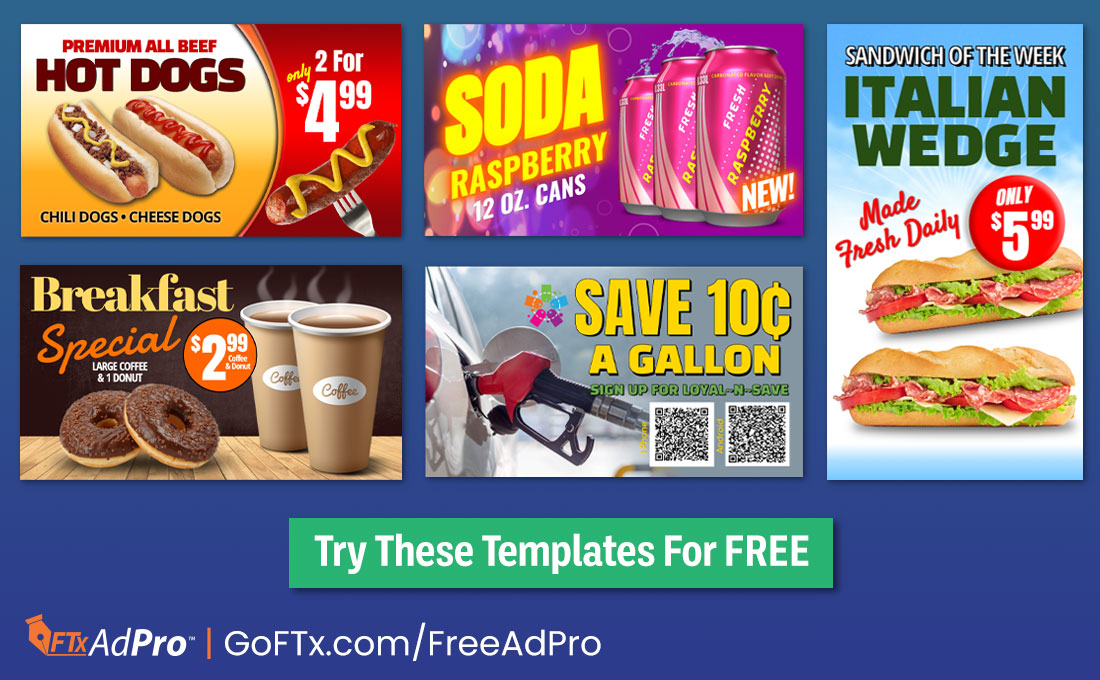 Using digital signage at your convenience store provides more than an effective marketing strategy. When installed at your location, digital signage will also:
• Improve customer perception of your business
• Distinguish your store from the competition
• Increase in-store traffic, impulse purchases, cross-selling sales, and add-on sales
• Boost loyalty rewards program enrollment *
• Reduce perceived wait times at the checkout counter
• Build a positive brand identity for your business
• Use interactive promotional strategies to sell food and other itemsInstalling digital signage at your convenience store will greatly benefit your business in both the short and long terms. Electronic signs are attention-grabbing, which makes the content you display memorable. When convenience stores invest in digital signage, their marketing efforts generate more customer engagement and patronage than traditional printed signage. There's no downside to making the switch from traditional to digital signage!

If you're currently shopping around for a full package of digital signage solutions, then FTx Digital Signage is for you. Our digital signage solutions include the design software, AdPro, that we mentioned earlier. Free AdPro comes with a full library of photos, images, and industry-specific templates to help you quickly create stunning digital content. Our cloud-based software includes a centralized hub, the Control Center, to keep your content organized. Using our user-friendly dashboard, you can program your displayed content with dayparting and timeline scheduling.
Digital signage is a profit generating powerhouse! Learn the secret to building an additional revenue stream with in-store digital signs. Discover how to create professional advertisements for your digital signs and menus without hiring a graphic designer. Schedule a demo with FTx Digital Signage Solutions and we'll show you how!