Pet retailers & manufacturers, get ready. FasTrax is going global! This week, we'll be at the Global Pet Expo in Orlando, FL showcasing our innovative solutions while debuting our newest addition, Loyal~n~Save. No more double data entry, mail-in coupons, delayed rebates, and limited loyalty options. Loyal~n~Save allows you to participate in those same manufacturer discounts, while giving you the option to create and manage your own loyalty campaigns.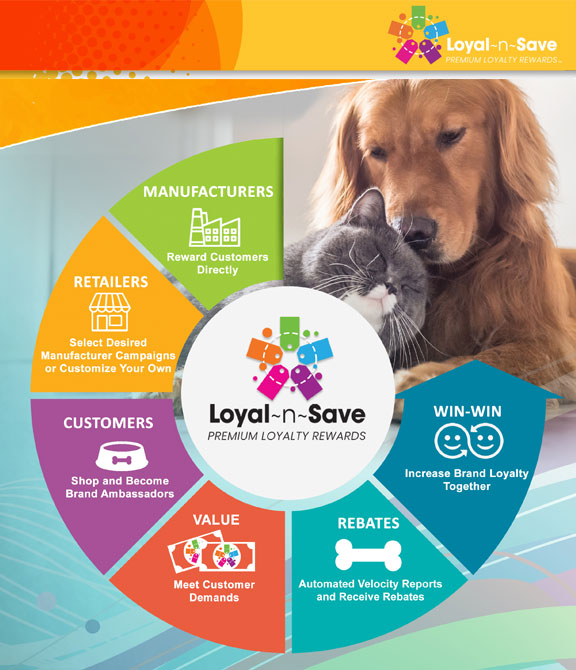 HOW DOES IT WORK?
Manufacturers, upload your offers into Loyal~n~Save, making them available to anyone who carries your products. Reach a wider audience and get your product out there.
Retailers, grab those campaigns you want to offer customers and automatically load them into your store's loyalty program. Customers access those deals through the Loyal~n~Save mobile app or online.

EVERYTHING YOU NEED WITHOUT LIFTING A PAW
Increase your marketing with less money! Loyal~n~Save incorporates referral-based marketing into Team Rewards, helping you acquire and retain customers through word-of-mouth advertising. For every customer that refers a friend or family member, they earn bonus points along with a percentage of points every time that team member shops.

Simply choose the manufacturer campaigns you want to participate in and easily create your own with an abundance of customizable options. Award points for things like purchases, visits, birthdays, referrals, and more! No more physical punch cards, now your loyalty can be centralized on one digital platform.
Point redemption is easy. Customers can either use their points as cash off in-store, or for items in your online Swag Shop. Offer exclusive merchandise that turns regular customers into brand advocates! It's a win-win.
WANT TO LEARN MORE? VISIT US AT THE 2019 GLOBAL PET EXPO MARCH 20-22 AT BOOTH #5745 OR CONTACT US FOR A FREE DEMO!
This article was written by FasTrax Solutions, a software solutions provider specializing in Retail POS, Warehouse Management Systems, Digital Marketing Solutions, and Customer Loyalty and Reward Solutions.