Grocery stores will always be around. The vast majority of consumers rely on in-store grocery shopping for their produce, fruit, meat, packaged food items, household cleaning products, seasonal decorations. But nearly every business experiences lulls. Fortunately, there are some tricks and strategies owners can use to increase grocery store sales. 
From setting up your store properly, to using the latest technology, these tips will help you start boosting sales at your grocery store (and most aren't expensive or labor intensive). Plus, we've got a list of grocery promotional ideas you can use for marketing inspiration. 
Ultimately, if you want to increase sales, here are three key tips: 
Use the right tools (inventory management, signage and a POS) 
Know your audience (so important for improving sales) 
Keep it fun (use rewards, events and promotions to keep customers coming back) 
Without further ado, these are tips and strategies to boost sales at your grocery store (with some bonus promo ideas you can use)!
1. Understand the Market
To increase grocery store sales, you have to know your market. First, perform marketing research to understand your target audience. Then, use this data to begin to optimize your product mix and promotions to better serve your target audience.
Where to begin? Depending on the size of your store, you can do customer surveys, reach out to your local chamber of commerce for help, or dive into your existing sales data. In particular, you should focus on identifying:
Target Audience
Who shops at your store? Knowing this will help you better manage your grocery store's inventory and also design more enticing promotions. Some common target audiences for grocers and food stores include:  
Families: Family shoppers are volume shoppers. Therefore stock family-sized products and bulk deals.


Singles: Offer single-serving meals and products. A deli section with convenient take-out options would serve this audience well.


Health Enthusiasts: Introduce organic, gluten-free, or vegan sections. You could then use digital signage to promote and draw interest to this section. You may also want to redesign your produce section to better appeal to this market.
2. Market Trends
Once you know who your audience is, you can begin to determine works best with that audience and increase sales at your supermarket. One of the best ways to do this is looking at your sales data. Jump into your POS transactions reports to determine:
Emerging Food Trends: From keto products to international cuisines, look for products sales that have grown noticeably over a specific period. Year-over-year growth, for example, is a good time frame for analyzing food buying trends.


Customer Preferences: Regular surveys can provide insights. Another option: Use your POS to start a loyalty program, and then gather insights from your loyalty customers about what works and what they prefer.


In-demand Products: Stock what's trending. Grocers can drive sales if they conveniently stock what's in-demand, e.g. chicken wings on Super Bowl Sunday, or hot dog buns at the Fourth of July.
3. In-Store Strategies
The store's ambiance and layout play a pivotal role in driving sales. The use of endcaps, product displays, and even in-store digital signage can all help you entice customers and encourage them to add items to their basket.
How you display products can have an immediate effect on sales. For example, many groceries put high-demand fresh foods at the front entrance to entice customers with aroma. Here are a few placement tips:
High-demand items – Place them at eye level. For instance, popular cereals should be at about eye level. Also, stock high-value items at eye level too. As they say: Eye level is buy level.
Plan end cap promotions – Use end caps to display new products, in-demand products or seasonal offers. This is prime real estate.
Call-out unique products – Educate your customers on local products, special nutritional facts, or other helpful info about your products.
Impulse buys – High impulse products like gum or chocolate should be placed at the register.
Digital Signage – Digital signage in grocery stores is a great tool for calling out products, directing your customers, and enticing them to buy. You can also use digital signage for interactive menu boards or for customer-facing displays at the register to drive impulse buys and promote sales.
Ultimately, your store should have a logical flow; generally with produce at the front and frozen foods in the back. This will encourage customers to walk through your store and add more items to their baskets.
4. Plan Your Promos & Loyalty Programs
An effective promotional calendar can help you drive repeat sales and better engage your audience. Some tricks groceries use to plan promotions include:
Weekly deals – These could be rotated every week, or you could have the same special every week, like 2-Dollar Tuesdays.
Seasonal baskets –

Curate baskets of products with a seasonal theme. For example, you could offer a "Summer BBQ" basket in July. This can help you introduce new products, encourage larger orders, and creates a sense of novelty.

Interactive displays –

Samples are one of the best ways to introduce a new product or to drive sales for a slow-moving product. Not only does it drive sales, but it also enhance the customer experience.

Special occasion sales –

Create a promotional calendar throughout the year, based on seasonal events like Back to School or holidays.
 Finally, don't forget about loyalty programs. A loyalty program will provide you with rich customer data that you can use to tailor your promotional campaigns.
5. Become a Data Sleuth
There are a ton of insights in your POS's analytics data that can help you improve. There are many types of time-based analyses for grocery store sales. Here are a few ideas:
Short-Term – Weekly / Monthly
This helps you measure seasonal effects, the impact of a promotion, or your advertising campaigns. For example, if you introduced a holiday sale, you could compare month-over-month sales for the sale items, and determine if sales volume had changed. You can use this data to improve and refine your marketing efforts.
Medium-Term – Quarterly / Annual
This type of analysis will help you measure growth, determine if sales are increasing or stagnant, and help you better understand seasonal buying patterns. For example, you could compare Q3 2023 sales to Q3 2022. This would help you determine if macroeconomic factors are affecting sales. You can use this to identity monthly sales fluctuations or the effect of a longer-term marketing strategy.
Long-Term – 3-5 years
Grocers use long-term analysis to measure shifts in consumer behavior and grocery buying trends. For example, this type of analysis would help you identity if a particular food category (e.g. vegan foods) is growing. You can use this data to identity dietary trends (e.g. KETO, paleo, etc) and determine what impact they're having on sales.
6. Build a Strong Digital Presence
These days, every grocery store should have a website, social media presence, and make contact and hours of operation information accessible. For example, even independent retailers should regularly update their Google business listing, which helps customers learn when you're open.
However, the basics might not be enough. Many customers now demand:
Online ordering
Regular social media posting
Mobile app couponing
Rewards programs
With the right POS, you can offer some of these like mobile coupons and rewards. Additionally, you might be able to build a strong ecommerce presence with an integrated POS system.
7. Get Feedback and Respond
Feedback is every grocery store's roadmap to improvement. You can use it to refine your product mix, understand the customer experience, and improve your customer service. There are two ways to seek feedback: 1) At the register with paper or digital forms or 2) through online surveys with your email list.
But gathering data isn't enough. You have to act on it. Introduce and promote requested products, improve services or make changes, and reduce your commonly sited pain points. For example, if you received feedback that customers don't like waiting at checkout, you could look for options (e.g. self-checkout or adding employees) to improve checkout speed.
8. Introducing a Rewards Program
Nearly every grocery store offers some kind of valued or frequent shopper rewards program. For independent retailers, these types of programs seem difficult to implement. However, with the right supermarket POS, any business can introduce rewards and build a program that customers use and enjoy. For example, with Loyal-n-Save, the FTx POS rewards program, you can offer your customers:
Tier-based rewards – provide more rewards for high-volume shoppers
Rewards gift cards – introduce reloadable rewards cards
Point-based rewards – set points-earning criteria for specific products
More Promotional Ideas for Grocery Stores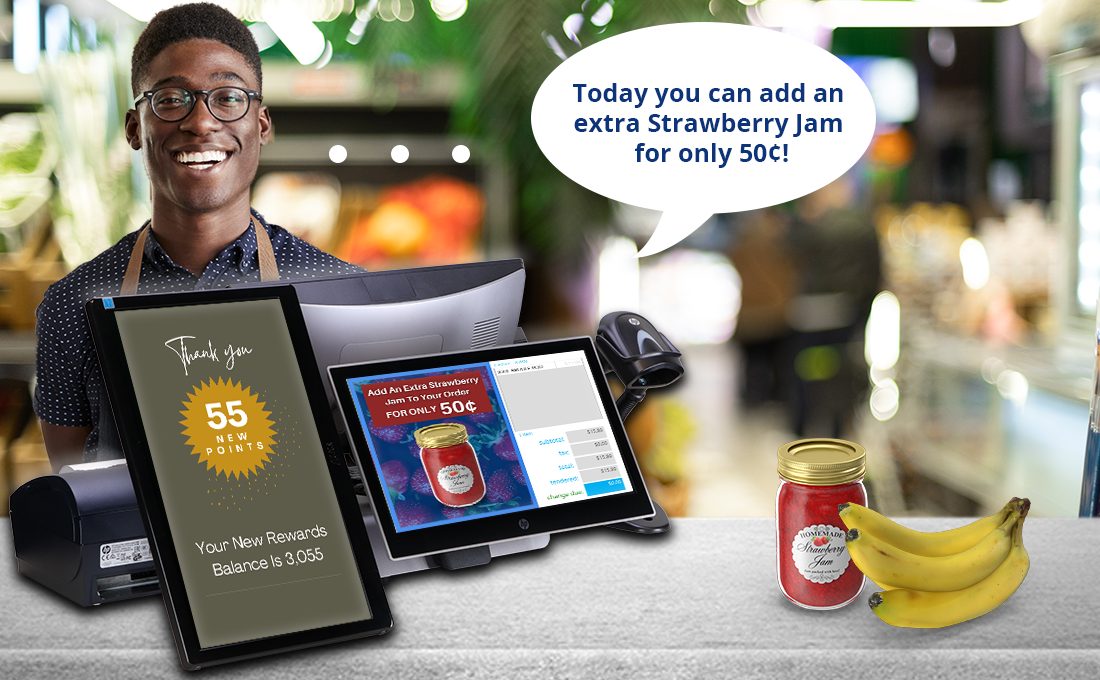 What makes an effective grocery store promotion? Really, it depends on your audience. If you serve deal-focused shoppers, a Double Coupons Day might work better than highlighting your "farm-to-table items". Looking for some ideas? Here are some effective supermarket advertising and promotional ideas that can drive sales:  
Host weekly themed tasting events or food sample in-store.
Use an upsell software to offer targeted promotions at register.
Collaborate with local farmers for fresh produce.
Introduce a "buy one, get one" sale day.
Offer exclusive discounts to newsletter subscribers.
Create holiday-themed bundles and gift baskets.
Launch a mobile app with digital coupons.
Organize monthly recipe contests for customers.
Provide free home delivery on large orders.
Set up a seasonal pop-up farmer's market.
Offer personalized shopping experiences online.
Collaborate with chefs for in-store workshops.
Introduce eco-friendly product discounts.
Host charity events with a percentage of sales.
Offer a "frequent shopper" exclusive sale hour.
Start a "Product of the Week" spotlight.
Offer a discount for reusable bag usage.
Organize in-store scavenger hunts for kids.
Launch a customer referral discount program.
Introduce themed days with special discounts.
Can A Loyalty Program Help You Increase Grocery Store Sales?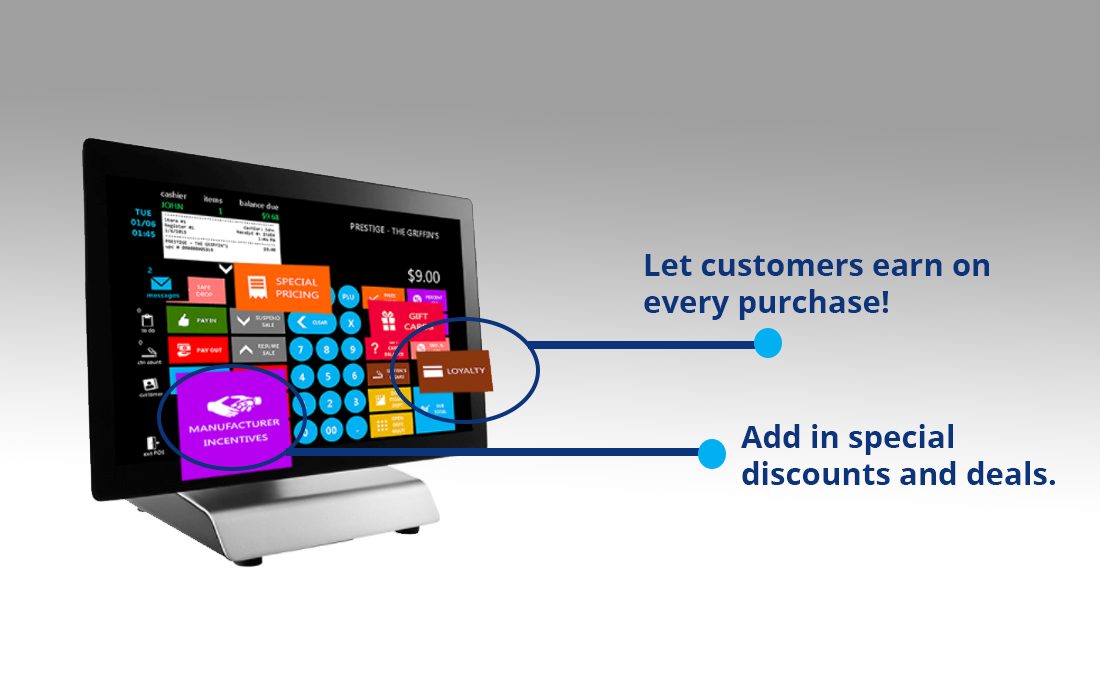 Customer loyalty rewards programs, first and foremost, are marketing strategies unto themselves. These programs are designed to incentivize each member to increase their shopping frequency and expenditures.
By offering members access to special deals, discounts, and the chance to earn "points" with every purchase, loyalty programs promote customer retention. In addition to improving customer retention, loyalty programs also track and collect critical data about each program member's shopping habits. This data can then be used to personalize campaigns and develop better promotional strategies in the future. 
Has your customer loyalty rewards program gone stagnant? How can you reinvigorate your program incentives so that members shop more often, buy more products, and boost your sales? 
Earning points that can be used to redeem products should be fun. If your loyalty program has fallen flat, there's a good chance that somewhere along the line your rewards incentives either started to bore your members or they were too difficult to attain. Not to worry. Pumping excitement back into your loyalty program to generate sales isn't as hard as you think. 
A good place to start is to simply switch up the type of loyalty program structure that your program offers. For example, have you been primarily using a points-based structure? Try launching a tiered-based structure instead. What if you've been using a tiered-based structure? Your tiers might be too hard to reach. Consider lowering the points thresholds of each tier so that members have an easier time climbing the ranks. Offer VIP benefits as part of a VIP structure. And remember, you can never go wrong with gamification. Any program structure can be gamified using a little creativity and a lot of points-earning competition between members. In other words, if you make earning points easier, your members will start having fun again.  
As you can see, increasing revenue at your grocery store starts with improving customer loyalty. One of the strongest tools in your marketing toolbox is your customer loyalty rewards program. Rewards programs are a cut above the rest, because these programs collect valuable customer data which you can use to launch highly personalized promotional campaigns. Reach, engage, and reward your loyal customers using the following loyalty rewards program features: 
Exclusive swag shop items
Mobile app integration
Email marketing campaign capabilities
Personalization in every marketing campaign