Graphic design impacts our everyday lives. If you walk down the street, turn on the TV, or enter a store, you will see countless graphic designs. It's in advertising and branding, on websites and social media; and it's even in books and magazines, and on product labels. Graphic design is a vital component of every business. Presenting your brand to the world with strong visuals plays a huge role in staying competitive in today's modern business environment.
Generating sales and increasing revenue hinges on effectively communicating with consumers to grow your audience, both in-store and online, and converting those consumers into loyal customers. However, not every business can afford to hire a graphic designer to create impressive marketing, branding, and promotional materials for their company. Since successfully attracting an audience begins with distributing powerful marketing materials, how can smaller companies create Grade A marketing materials if they aren't in the financial position to pay a graphic designer?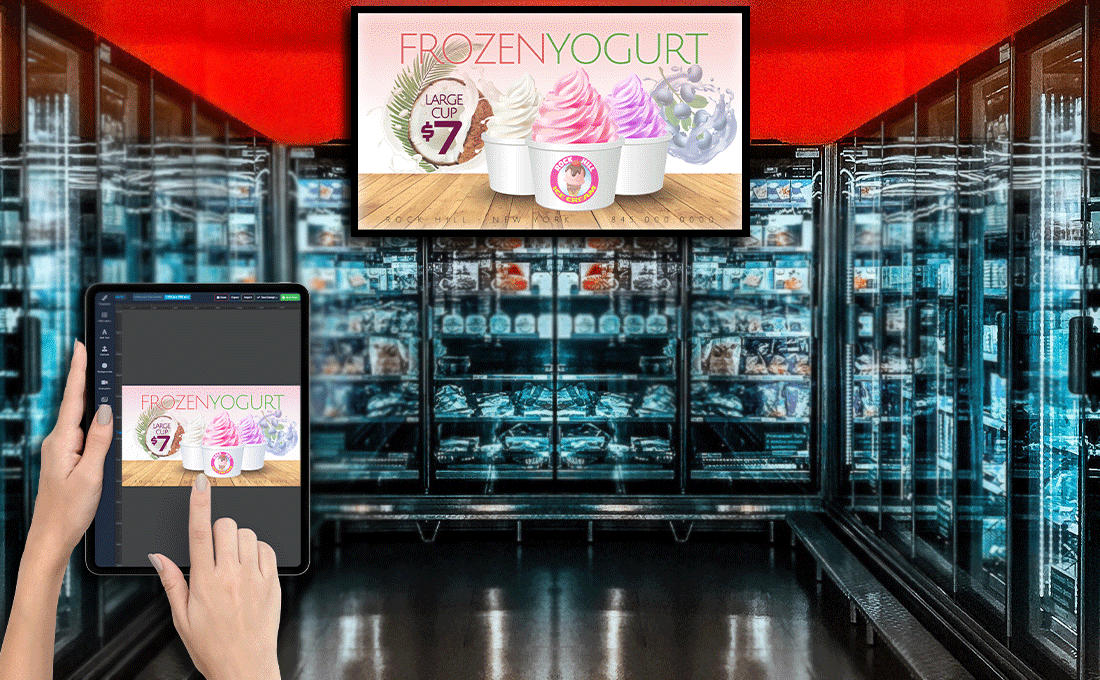 Fortunately, small business owners can find user-friendly graphic design software on the market in 2021 to meet their marketing needs. Selecting a graphic design software solution that provides a full suite of digital tools to create professional-looking content is now possible. But finding a software provider that will best suit your unique business needs could require a little research.
Consider this article a jumping-off-point in terms of that research. In fact, we're going to do more than present the research. We'll get you acclimated to the graphic design features offered by FTx AdPro–the best graphic design software around that also happens to be completely free. We'll also outline for you how our cloud-based graphic design software can be used to quickly create content marketing graphics and other promotional materials. So, keep reading to learn how to utilize AdPro for your marketing needs.    
DIGITAL SIGNAGE
One of the most important marketing strategies for retailers and small businesses is digital signage. Digital signage solutions include both hardware and software, and once digital signs are installed on-site at your business, the content shown can greatly enhance your shoppers experience while informing them of the latest discounts, deals, and sales promotions. But installing the best digital signage system that money can buy won't do any good unless the content you display on your screens is top-notch. The reality is that digital signage systems do not come with software to create the graphic design content you'll display.
FTx AdPro seamlessly integrates with most digital signage solutions, but works best with FTx Digital Signage. Make managing your digital ads and menus quick and easy. Once you've finished creating your display ad, you can schedule it to run on one or more of your in-store screens, including your customer-facing POS displays. You can even schedule dayparting and easily review the various content displayed throughout the day, week, and month by scrolling through the visual timeline in the dashboard. With AdPro, you can adjust, edit, and update your content easily and export it to your digital signage with the click of a button. Take advantage of sales trends, promote slow-moving items, and engage your customers with relevant promotions, all in real time. 
For an in-depth look at how digital signage can work for you, check out How Digital Signage Can Save Time, Money, and Effort.
FTx AdPro can be used for all of your digital signage content, including:
Customer-Facing Point-of-Sale Displays
Menu Boards
Fuel Dispenser Kiosks WEBSITE If you run a web-based business or eCommerce site, then you know that your website presentation, layout, color scheme, and navigation are just as important as the décor of any brick-and-mortar store, if not more so. These days, consumers really do judge books by their covers, which means that your website landing page must be stunning, intriguing, and engaging. If it isn't, visitors won't click deeper and deeper throughout the site to browse and buy products, or learn about the services your company offers. Hiring a graphic designer to work with your website developer could cost you a fortune. For businesses that go the DIY route and use a drag-and-drop website builder platform like Wix, Squarespace, or Weebly, those businesses will quickly discover that the provided templates can appear a bit stale, and when used, run the risk of looking identical to other companies that selected the same template. Talk about embarrassing! Generating your web graphics, background, and images using AdPro can provide the perfect balance of affordability and originality. You can save your AdPro designs in .JPG, .PNG, and .PDF file formats, which makes them compatible with any website builder. When your business presents a clear brand on a uniform yet uniquely styled website, your visitors will get a positive impression of your company and be all the more inclined to give your products and services a whirl.     Want to learn more about how to build a high-ranking website? Be sure to read Tips to Build SEO. When you use AdPro to design your website content, you will be able to take your graphics from ordinary to extraordinary in the following areas:
Products and Services Images
Headers, Footers, and Background Designs
Graphics, Images, and Photos for Blog Posts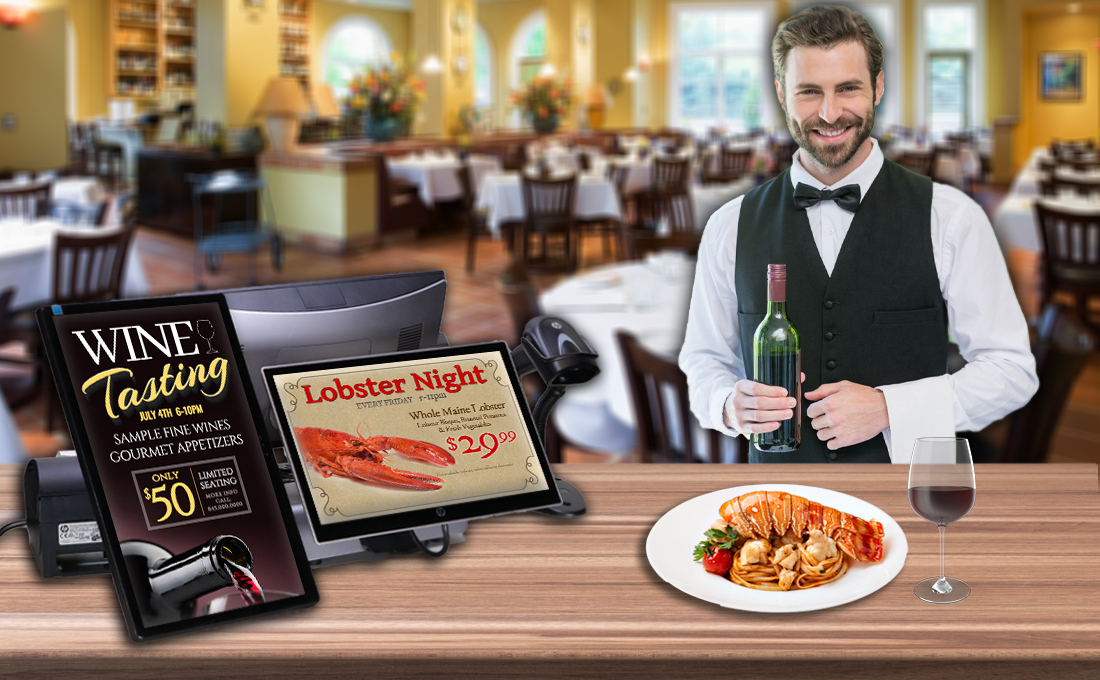 EMAIL MARKETING
There's really nothing worse than slapped-together-looking, janky graphics… except for burdensome graphics that either refuse to load or trigger an automatic trip to the recipient's Spam folder when used in email marketing campaigns… yikes! Email marketing can be extremely effective, but not when your recipient list can't open or even find your business's promotional emails. You need reliable, high resolution, low-DPI, excellent-quality graphics for the banners, headers, footers, and images you use within the bodies of your mass emails so that every campaign you send reaches the recipient's inbox and opens perfectly. When you create graphics using AdPro, this is never a problem.
Since AdPro is cloud-based, your work saves in the cloud as you go. Exporting is straightforward and uploading your exported graphics into your email marketing service provider account is fast and easy, whether you use Constant Contact, MailChimp, Drip, or any other platform. Present polished, professional-looking graphics within every email campaign that captures the spirit of your business's brand with AdPro.   
For a detailed understanding of how free AdPro can upgrade your email marketing content, take a moment to check out our previous blog post, AdPro Free Trial.
Our cloud-based software includes the following features to help bring your email marketing to the next level:
Banners
Graphic Template Layouts
Clickable Industry-Specific Images SOCIAL MEDIA Digital marketing wouldn't be what it is today without social media. Whether you own a B2C or B2B company, you can reach far more consumers when you include social media marketing in your overall marketing strategy. Advertising your products, services, and brand on your social media channels via posts and PPC ads can greatly boost your revenue and drive traffic to your website or your retail location. But only if the images, graphics, and photos you post properly and professionally introduce your brand to the world, and it never hurts to use top-trending hashtags and actively engage with your commenters.  With AdPro, you can use layering tools so that every social media post includes your branded logo and company colors. Make quick work of arranging and blending images to get an aesthetically pleasing design for your post. You can layer multiple levels of text, photos, or shapes, and even integrate video and animation for truly dynamic posts. AdPro is professional-grade design software that was made for the novice, which means that the program responds to easy commands such as Move Forward, Move Backward, Send To Back, and Bring To Front when adjusting layers. FTx AdPro's layering tools give you the freedom to fully customize your social media graphics even when you're working from one of the program's pre-designed templates! We could say so much more about enhancing your social media marketing with FTx AdPro right now, but instead we invite you to get all the in-depth SMM information you need by reading Social Media Marketing Secrets. AdPro can help your business stand out with attention-grabbing social media posts that you can easily build with:
Drag-and-Drop Templates for Posts
User-Friendly Features for Posts that Pop
Perfect Sizes for Instagram, Facebook, Twitter, and more! PRINTED MARKETING MATERIALS Just because digital marketing has surged doesn't mean that printed marketing materials are passé. Depending on the nature of your business, printing hard copies of your marketing materials might remain necessary for the foreseeable future, especially when attending trade shows or other insider events where exchanging business cards, company catalogs, and other physical materials is the sole method of networking. No matter what purposes your printed marketing materials serve, they have to be designed in a certain format to ensure the highest quality print results. Do you know the difference between CMYK vs. RGB? What about the difference between printed products that result from 300 DPI vs. 180 DPI? Which file format does a typical printing press want, .PDF, .JPEG, .PNG? What if your cloud-based design software made it impossible for you to select the wrong options? Now we're talking! FTx AdPro understands that some digital files aren't intended for the web, but rather for printing, and our intuitive interface can help you set up the correct file and assist you every step of the way as you create gorgeous marketing materials to send to the printer. Building A Brand is critical for any business, and it's never too late to assess your current branding and take measures to redesign your logo and graphics, if need be. AdPro is the only software you'll need to get the job done efficiently and professionally, even for the development of your printed marketing materials. Our cloud-based software comes with ready-made templates for the most common printed materials, including:  
Business Cards
Pamphlets
Flyers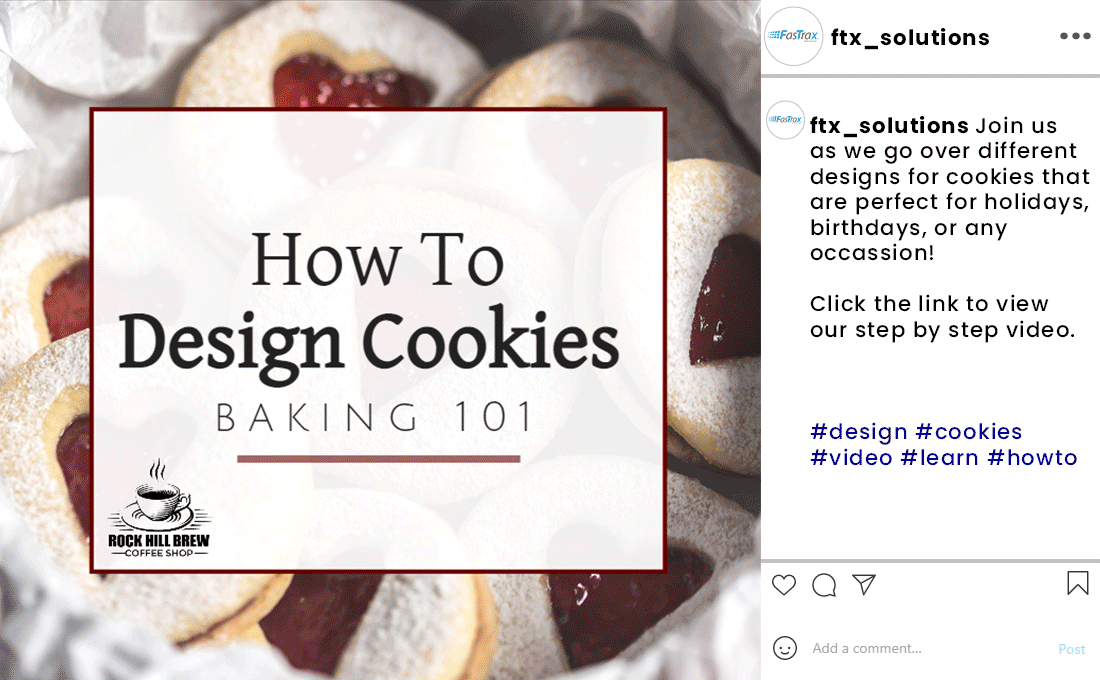 PERSONAL USE
Is your business still in its infancy? Or have you yet to incorporate and file the LLC paperwork? If you've gained traction within your industry, but haven't transformed your influencer personality into a formal brand to launch in the business realm yet, FTx can meet you where you are and take you all the way. Check out our New Marketing Solutions Coming Soon.
In addition to serving all of your business needs, AdPro can also be used for personal reasons, including but not limited to:
Stunning Resumes and C.V.s
Polished Portfolios for Professionals and Artists
Upgrade Your Online Presence from Consumer to Influencer OTHER ADPRO USES Mobile application technology is the future of business, and the future is here. If you're interested in discovering how your AdPro-generated digital content can be integrated with developing technologies, our previous article Apps and Consumer Experience provides a thorough assessment of the mobile app market and how launching an app can quickly promote your business and increase revenue. FTx AdPro can also help your business to:
Create and Design a Strong Brand
Generate Memes, GIFs, and Other Entertaining Multi-Media Visuals
Edit and Export Videos, Tutorials, and Other How-To Content If you want to design compelling digital marketing content that engages in-store customers, website visitors, and social media followers, then sign up for FTx AdPro and get noticed! AdPro is completely free and you won't be asked to supply payment information. This isn't a gimmick or trick, and there are no strings attached! Our digital content creation tool will help you generate professional-looking graphics for all of your promotional and advertising needs. The digital content you create in AdPro is easy to design and fast to export, so if you choose to work with a printer, you will be able to supply the printing press with high resolution, vibrant graphics. FTx AdPro graphic design software was engineered to deliver professional results regardless of the user's design experience or skill level. Using our templates, full library of industry-specific images, and easy drag-and-drop tools, you will be able to generate stunning content for your in-store digital signs, menu boards, wayfinding maps, special sales and promotions, and announcements and alerts. For your social media marketing needs, AdPro will help you design all of your posts, whether they contain images, animation, video, or other multi-media visuals. What else can FTx AdPro offer your business?
Display high res, engaging images, graphics, and video directly to your digital signs
Choose from over 1,000 pre-designed, industry-specific templates
Peruse an expansive photo library to build your ads from the ground up
Customize your ads with layering tools and intuitive navigation like the pros
Select eye-catching animation graphics to increase customer engagement and sales
Design and edit your ads from anywhere using our cloud-based FTx Control Center
Create branded images for print, web, email marketing, and social media campaigns Thousands of Templates–You will have access to thousands of editable menu and promo templates that you can easily drag and drop to swap for your branded content! Fully Customizable Menu Boards–You are in control with changeable backgrounds, gradients, fonts, and photos! Replace stock images with your own and then simply change our pre-filling pricing information! Design Your Ads Anywhere–Using our cloud-based AdPro dashboard, you can create menus, ads, and even social media content from anywhere to keep your customers and staff informed and engaged! Export Your Branded Images–Reach your customers even when they can't come to your retail store by exporting your designs and using the image files for your social media posts and on your website! Is there a downside to signing up for free FTx AdPro? Nope! Take advantage of this cloud-based software today! Want to learn more? Speak with one of our FTx marketing strategists by contacting us here via our website to hear about everything AdPro can do for your unique business!
This article was written by FasTrax Solutions, a software solutions provider specializing in Retail POS, Warehouse Management Systems, Digital Marketing Solutions, and Customer Loyalty and Reward Solutions.
---